Dear Father Frost, please bail me out!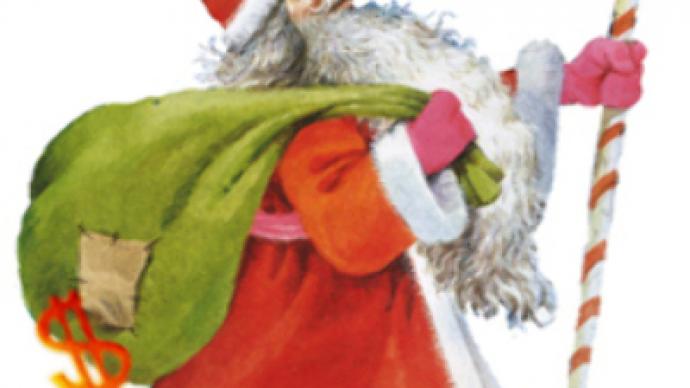 Moscow's Father Frost mansion has already received more than 3,000 letters. But this year a lot more adults than usual have sent their New Year wish lists to the Russian Santa. In times of financial crisis, they're asking him to call in a credit, get them
Some people also believe Father Frost, or Ded Moroz, can help them find a new job. Moreover, they write precisely what position they would like get. Worried Russians are asking the old man to stop the crisis in the country.
Whether there is a magic solution to the problems people are facing or not, one thing is fore sure: the number of adults who'd like to believe in wonders has increased.
At least for one couple, the year 2009 will almost certainly be happy. Ksenia and Sergey have asked Ded Moroz to help them organise their wedding in his mansion. Their dream is to come true on December 27 when the ceremony will be held in the 'magic' wooden tower. They will also get their marriage certificate directly from Ded Moroz's hands.
However, one man will have to wait before the 'Russian Santa' will be able to have a close look at his wish list. According to the 'magic' post office, they've received a letter from a person who is in jail and will remain there for seven more years.
Meanwhile, children are asking Ded Moroz for more usual things like bicycles, chocolates, dolls and computer games, though some are asking for diamonds or other gems.
It's 10 years since the Ded Moroz postal service started its work in Moscow's Kuzminki district. In 2007, it received more than 15,000 letters. From December 1 till January 15, the team of about a dozen workers, mainly students, works night and day to process the mail.
But whilst the magic postal service remains busy, it looks like Father Frost himself will have a lot less work to do this December.
Traditionally, Russians celebrate the New Year with their colleagues in offices and invite Ded Moroz to corporate parties
Hit by the crisis, many companies have had to cut their expenses significantly and have decided not to hold New Year parties at all. Also, many firms have reduced their personnel. As a result, the corporate gifts' market is in the red.
Despite all the difficulties, however, certain contacts are always important, and VIPs, such as high ranking businessmen, need not worry about being left without New Year gifts. However, the crisis theme dominates even the presents' market, which doesn't mean the gift should be boring. Gift shops suggest amusing important contacts with a dollar printer, a certificate for increased welfare or a matryoshka doll with the face of the country's Finance Minister.
You can share this story on social media: