Good-bye rip offs, hello real deal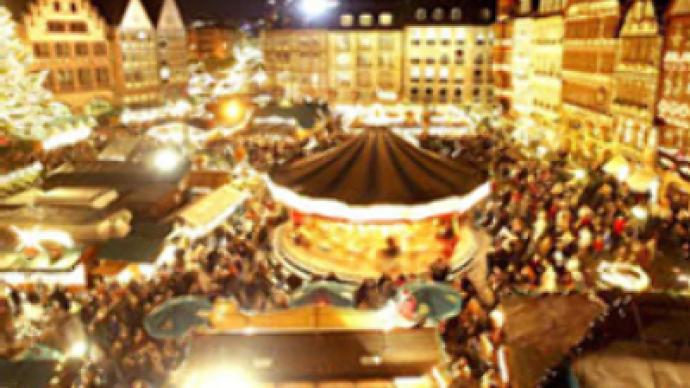 Predictions that Christmas lights wouldn't shine as brightly in Frankfurt am Main this year are proving to be false. Although the yuletide market in Germany's financial capital is half its normal size, it's still packing a real punch – even in
The outdoor Weihnachtsmarkt, or Christmas market, usually starts on the North bank of the river Main, stretching up through the historical centre and into the pedestrian shopping area of the city's downtown.
This year, though, much of the pedestrian area is a construction zone. There are fewer little wooden kiosks selling grilled sausages, hand-crafted tree ornaments and the ubiquitous Glühwein, a traditional spice-mulled red wine served hot in mugs. The dreariness of a smaller Christmas market was predicted to be symbolic of the city's emotional state following the onset of the current economic crisis.
So far, those predictions aren't proving to be true. If anything the smaller Christmas market is even merrier than normal.
"I was only at the market once this year", says investment banker Vanessa Stockton Saatweber, "it was full and happy on a Sunday afternoon, so I can't say that it was subdued."
Frankfurt-based English Teacher Len Lovett agrees. "It honestly looks like people are shopping more than they did in the last couple of years," he said.
So what is missing from the larger Frankfurt Christmas Market of past years? The tourist rip-offs. The greediest of the bad Glühwein stands are gone. The genuine version of the hot spice-mulled wine is a favourite among Germans and almost a requirement for foreign tourists searching for authentic Christmas market traditions. The sheer demand for product meant that, in recent years, real Glühwein has been in short-supply at the Frankfurt Christmas market.
Instead, market stalls had been selling Glühwein made from bottled concentrates. The concentrate-based Glühwein sells for between 0.79 and 0.99 Euro cents per bottle in grocery stores, but cost two euro for 0.2 litres at the Frankfurt Christmas market. In addition, market visitors had to pay a two euro "deposit" on a souvenir mug. Sellers knew many tourists would be too impatient to wait in line to return the mug in order to get their money back.
The absence of Glühwein tourist traps hasn't diminished the number of visitors to the Christmas market. "With the market being half the size this year, they've still managed to pack in the usual number of people," Lovett said.

What awaits those visitors is a drink that, unlike bottled Glühwein, comes with its own Christmas-market ritual included in the price.
"Feuerzangenbowle is red wine, mulled with spices and pieces of orange; then sugar is placed on a metal base perched over the top, soaked in rum and lit – the melted rum-soaked sugar falls in the mulled wine and it's ready to drink," says Mrs. Stockton-Saatweber. "It tastes like Glühwein, but preparing and drinking it is a special ceremony in itself."
"Skip the Glühwein and go straight for the Feuerzangenbowle," Lovett advises Christmas market visitors. "Wine, sugar, rum and fire…how could you go wrong with that?"
By Kate Baggott for RT


You can share this story on social media: