Conservative MPs urge Cameron to delay gay marriage vote, citing re-election worries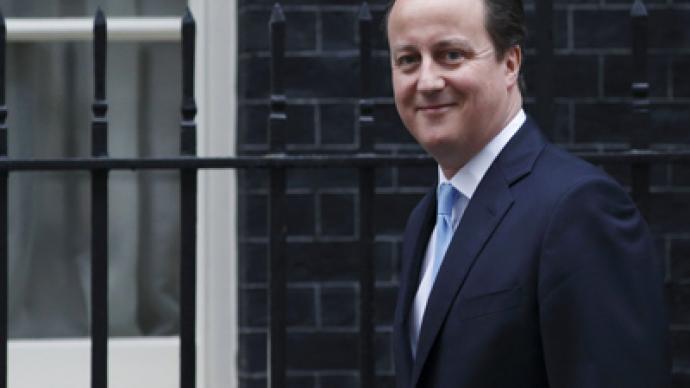 Members of UK Prime Minister David Cameron's Conservative Party urged him to delay a parliamentary vote on gay marriage, warning it could harm his re-election bid. Conservative MPs are also preparing to defy Cameron's plan to legalize gay marriage.
Opponents of the gay marriage bill have warned the issue could weaken the party and harm Cameron's chances of re-election in 2015. Conservative association leader Geoffrey Vero called the bill a "dangerous risk to take with [Cameron's] core supporters." A letter expressing disapproval of the bill signed by more than 20 chairs of local Conservative associations was sent to Downing Street on Sunday afternoon."We feel very strongly that the decision to bring this bill before parliament has been made without adequate debate or consultation with either the membership of the Conservative Party or with the country at large," the letter read. "Resignations from the party are beginning to multiply and we fear that, if enacted, this bill will lead to significant damage to the Conservative Party in the run-up to the 2015 election."Around 180 MPs are prepared to defy Cameron's plan to legalize gay weddings, the Sunday Telegraph reported. 
From civil union to a 'great institution'
The Marriage (Same-Sex Couples) Bill would allow same-sex couples to get married in both civil and religious ceremonies. The bill would also allow couples who have previously entered into civil partnerships to convert their relationship into a marriage, and enable them to change their legal gender without having to end their union.Civil partnerships for same-sex couples are legal in the UK, and provide the same legal rights as marriage. However, gay marriage supporters have claimed the distinction implies that gays and lesbians are inferior.Cameron has spoken passionately about his belief in allowing same-sex couples to marry: "I'm a massive supporter of marriage and I don't want gay people to be excluded from a great institution," he said in a statement. He even argued that gay marriages are in tune with Conservative values – a claim disputed by many in his party."I am far from happy about these matters. These days, marriage seems to be taken too lightly by too many and an important thing to me is not to have marriage vows whether civil or religious devalued," Conservative Deputy Chief Whip John Randall wrote in the letter to Downing Street.
Playing politics
As Conservatives warn that the bill could harm Cameron's re-election chances, it appears their fears may be warranted.A poll conducted by ComRes found that 62 percent of British ethnic minority voters believe marriage should only be permitted between a man and a woman. Those same minority voters have been identified by the Conservatives as a key demographic in the next election. Nearly 70 percent of black voters polled said they believed Cameron's desire to legalize same-sex marriages was "more about making the Conservative Party look trendy and modern" than his personal convictions.Despite the overwhelming disapproval from Conservative MPs, the bill has received strong support from most of the Cabinet and younger members of the party, who have written to Tory MPs urging them to vote in favor.Labour and Liberal Democrat MPs are also largely in favor of the bill, which is expected to be approved in the House of Commons on Tuesday. The bill will then move to Parliament's Upper House, the House of Lords, which is expected to vote on it in May. It will then return to the House of Commons for a second vote.
You can share this story on social media: