At least 34 people killed in twin blasts in Damascus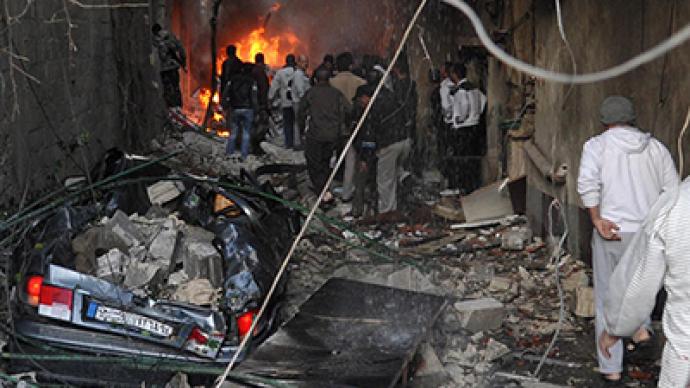 Twin "terrorist" car bomb blasts have rocked the Jaramana neighborhood in the Syrian capital, killing at least 34 people. Some believe that the bombing is part of the terror tactics exercised on the civilian population by the opposition forces.
While the Syrian Interior Ministry said at least 34 people were killed in the bombing, the Syrian Observatory for Human Rights puts the death toll at 54. Over 120 others were wounded.The blasts were felt in Jaramana, a suburb of Damascus.According to Syrian TV, the blasts went off just after 6:40am. Eyewitnesses claim debris from neighboring buildings caused further damage.The Jaramana bombing is not the first of its kind and is rooted in certain tactical and ethnic issues, Ammar Waqqaf, a member of the UK-based pro-government Syrian Social Club told RT."First of all, those neighborhoods and cities that are not willing to join up with the so-called revolution are being collectively punished. There's also the issue of ethnic cleansing," Waqqaf said. "Jaramana is the area where a lot of minority groups live and in the al-Qaeda or Salafi intellect these people should not belong in the 'believers' homelands', so to speak, so they're trying to push them to abandon those areas and go elsewhere."Jaramana, a prominent Christian and Druze neighborhood in South Damascus, has often been targeted in recent weeks.Ten people were killed by a car bomb on October 29, while a mortar attack on November 27 killed six and injured 12.A series of blasts have rocked other Damascus suburbs over the past week, killing and injuring dozens of civilians.The terrorists are trying to exert psychological coercion on the Syrian population, Waqqaf argues, as their tactics stem from the theory that Syrian people are afraid of the government and are willing to shift sides."This is a civil war tactic in a sense. [Their objective is] to give the illusion, the sense or the feeling that the government is not in control in the hope that people would start losing support," he continued.Despite that, there are still enough people supporting the Syrian government, Waqqaf added.Opposition fighters took over two military bases amid heavy fighting on Tuesday.Rebels have now taken control of roughly six military bases across the country.The Syrian army has also claimed minor victories, with an airstrike killing at least 20 people and wounding many others on Tuesday.The Syrian Observatory however has stated that rebels had lost many areas in eastern Syria and near Aleppo recently.
You can share this story on social media: