4 dead, 14 injured after twin blasts in Damascus rock army HQ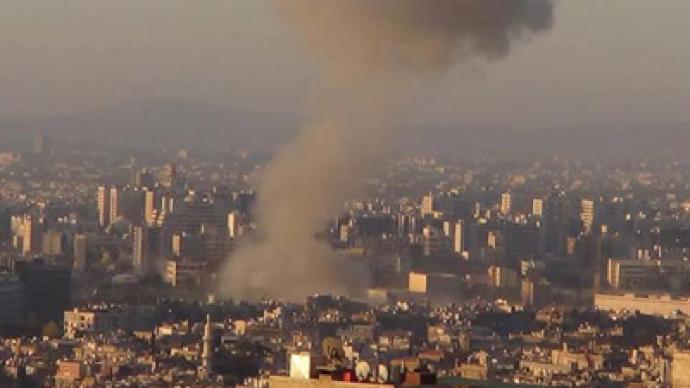 Four security guards were killed and 14 others wounded after two large explosions shook the Syrian capital of Damascus. The free Syrian Army claimed responsibility for the blasts, which gutted the army command buildings in the heart of the city.
Security personal and civilians were among those wounded in the attack.Syrian State TV alleges suicide bombers in explosive-laden vehicles carried out the attacks on the military command center in Umayad Square, though that information has not been independently verified. The bombings occurred around 7:00am local time (4:00 GMT).The explosion sparked a fire near the Ministry of Defense building. The Syrian Army Headquarters was also one of the targets of the attack, reports suggested.Violent clashes reportedly erupted inside the Army Headquarters building, leaving deaths on both sides, AFP reported, quoting human rights activists. On Twitter, witnesses wrote of hearing heavy gunfire near the site of the blasts.Hours after the attack the area close by is reportedly still cordoned off.The bombings caused only "material damage," and no military leaders were killed, the Syrian Information Minister said.The explosive device may have been planted inside the military complex, the minister added.
The blasts came one day after multiple explosions rocked Damascus, wounding several people.On Tuesday, two coordinated bombings involving seven devices went off at a school used as a meeting place for militia members and pro-government forces.Patrick Henningsen a geopolitical analyst and UK columnist told RT that the rebels in Syria freely admit to causing such destruction through what is essentially a terrorist act because they have the support of the western powers. "They can do that because they have the backing of the US, the Foreign Office in Britain, France, Israel and all of the Gulf States who seem to have some sort of international mandate in the international community. What you've got also here is the propaganda war has taken an ugly turn, and I believe that the recent shooting of the Press TV bureau correspondent was a targeted assassination because he was working for an Iranian state broadcaster," he said. Syrian state television reported seven people injured in the bombings, while a conflicting account suggested three were injured. No deaths were confirmed.More than 20,000 people were killed in the ongoing conflict in Syria that began in March 2011, the UN reported.