Official's car attacked in North Caucasus, four killed
Published time: 23 Sep, 2011 07:01
Edited time: 23 Sep, 2011 14:58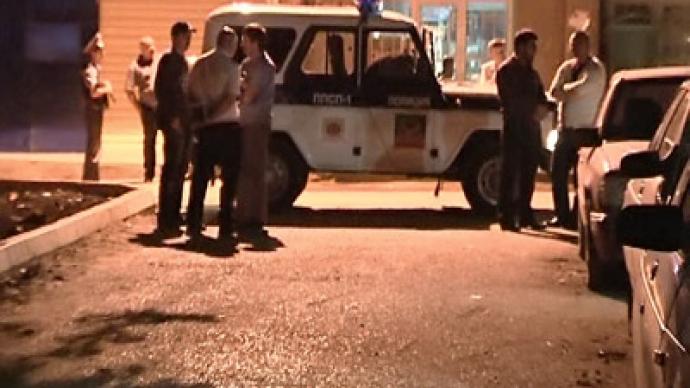 A top official's car has become another casualty of a fresh violence outbreak in the Russian Caucasian republic of Dagestan. The assault claimed the lives of the officer himself, his daughter and nephew, as well as his driver.
The bloody attack happened in Dagestan's capital, Makhachkala, early on Friday, when the deputy head of the Federal Penal Enforcement Service was on his way to office.

Militants reportedly opened fire from a passing car. The car was simply riddled with bullets, but the people inside it were reportedly alive, though severely wounded. However, they appeared to be trapped in the vehicle, which caught fire and was incinerated in minutes.
Operatives have launched a manhunt for the assailants.
The assault on the top-ranked official is likely linked with his professional activities within the prison system. The motive for militant attacks is often revenge on law enforcement and prosecution authorities who are involved in the legal or physical fight with the insurgency and terrorism in the region. 
Magomed Murtuzaliyev, the murdered penitentiary official, had received multiple threats from prisoners, a source from the Dagestani Interior Ministry told Interfax news agency.
"Murtuzaliyev received multiple threats from both former and current prisoners, because he had been actively squeezing criminal elements out of the republic," the source said.

Friday's bloody shooting follows the recent flare-up of violence in the southern Russian republic.

On Thursday, one police officer was killed and some 60 other people injured as a result of a double terrorist attack in Makhachkala.

Earlier in the day, a senior officer's car came under heavy machine gun fire in the Buynaksk region of Dagestan. The local police department chief was heading to his office when the accident happened. Two of his guards were killed in the shootout, but the officer himself was not hurt.
The president of the Republic of Dagestan has interrupted his business trip in Moscow and flown to Makhachkala following the deterioration of the situation in his region.