Great escape: Army and police called in as 15,000 crocodiles flee South African farm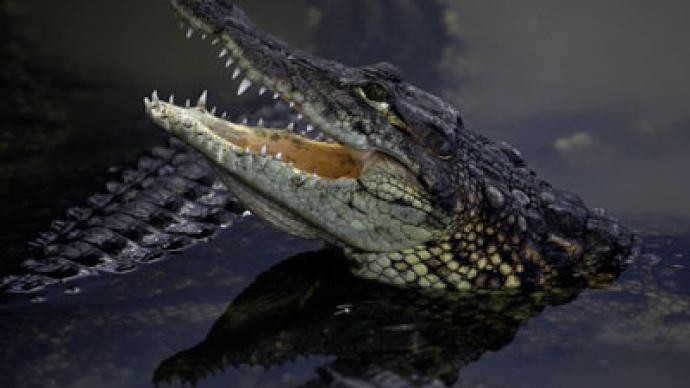 Army and police units have been called in to rescue residents after thousands of crocodiles escaped from a South African farm that was hit by a flood. The reptiles have since been spotted roaming the Limpopo river and surrounding area.
The owners of Rakwena Crocodile Farm were forced to open their gates on Wednesday to prevent a storm surge that could tear down the walls of their house, after water levels in the nearby Limpopo river rose rapidly.15,000 of the reptiles then made a dash for it, swarming the surrounding flood waters, prompting police and the army to step in, AFP reports."There used to be only a few crocodiles in the Limpopo River," Zane Langman, the son-in-law of Johan Boshoff, who owns Rakwena told South Africa's Beeld newspaper. "Now there are a lot."Since then scores have been recaptured, but at least half remain on the loose, scattered far and wide. One of them was even spotted 120 kilometers (75 miles) away on a school rugby field. Zane Langman went on to add that he'd had to save one of his friends from a flooded house being circled by crocodiles. "We sailed on a boat, and were surprised at how our friends have held on for so long. Crocodiles swam around the house. Thankfully, our friends were still alive," he said.The crocs are said to be easier to catch at night as their eyes glow red in the dark. The reptile that have escaped were identified as Nile crocodiles, the largest crocodile species in Africa and second largest in the world, with some growing up to five meters long. They are extremely dangerous and can attack humans. Animal safety experts have warned people to stay at home and remain vigilant for any croc sightings, though no incidents involving crocodile attacks have been reported.The rains in the Limpopo province started falling last Wednesday and serious floods hit the region. Ten people were killed have so far been killed in the downpours, with several missing and scores left homeless. Rescue teams have been sent to areas along the Limpopo River, where many buildings are in danger of being washed away.  Floods have also savaged neighboring Mozambique, where tens thousands of people have been evacuated from their homes.
You can share this story on social media: