Terminator Eyes: Hi-tech contact lenses show texts and maps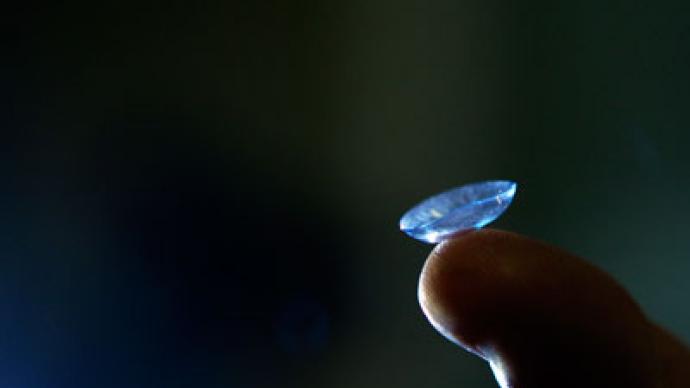 Imagine texting while driving, or placing a call while showering, without holding your phone in your hands. It's not sci-fi any more – a new technology allows information like text messages and driving directions to be projected onto a contact lens.
The hardware behind this invention is a spherical curved LCD display that can fit into a contact lens, developed by Ghent University's Centre of Microsystems Technology in Belgium."This is not science fiction," chief researcher for the project Jelle De Smet told the Telegraph. "This will never replace the cinema screen for films. But for specific applications it may be interesting to show images such as road directions or projecting text messages from our smart phones straight to our eye."These lenses may hit the market within the next few years. In an upgrade from previous models, a new LCD display allows the entire curved surface of the lens to be used. Earlier versions were based on LEDs, where the display resolution would be limited to only a small number of pixels.The University of Washington has also been developing new generation of contact lenses that would receive emails and would be able to project information from the Internet, much like in the movie 'Terminator.'Other uses of the lens include the concept of adaptable sunglasses – the contact lenses would darken on exposure to light. The lenses could also be used in the fields of medicine and cosmetics.These advances mark the push for a much wider development of the technology, with the aim of creating a fully pixelated contact lens display as detailed as a television screen. Tech giants such as Google and Apple have been working to develop similar technology. This past year, Google introduced Project Glass – frames for eyeglasses that project a small computer display into a person's field of vision. Apple has reportedly patented similar innovations.
You can share this story on social media: