Comatose drunk driver escapes hospital to give taxi rides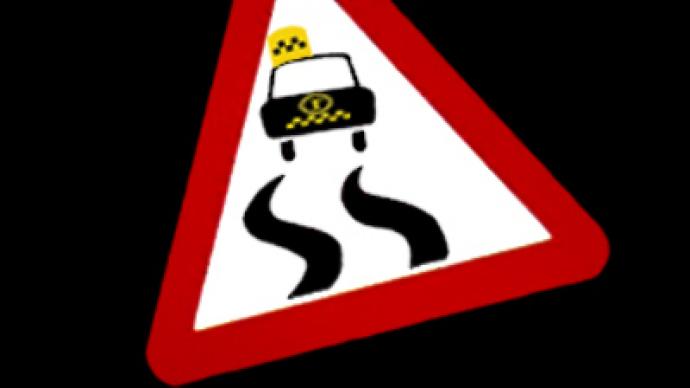 Police have stopped a taxi driver diagnosed with a blood alcohol level equivalent to an alcoholic coma who escaped from hospital to make a quick buck.
Life.ru tabloid writes, on Sunday morning, shortly after Russia finished celebrating Victory Day, road police in the town of Serpukhov in the Moscow region stopped a car belonging to Gleb S.
No tests were needed to see if the 44-year-old was dead drunk since even passers-by could sense he was reeking of booze, but in accordance with the laws, the police took the souse to a local hospital for examination.
When a nurse entered the guzzler's name in the hospital's database, it turned out that he was already registered there as a patient of the intensive care unit.
A doctor told life.ru that they couldn't believe their own eyes. "How could that happen? A person is getting treatment at the resuscitation department, and then you see the same guy being brought here by police, drunk!"
As it turned out, Gleb was delivered to hospital half dead on May 9, allegedly after he was partying hard celebrating Victory Day. After being diagnosed with an alcoholic coma he was placed in an intensive care unit. Thanks to doctors' efforts, Gleb was resuscitated and escaped from hospital in the evening.
"Nothing like that has ever happened here!" a nurse exclaimed.
When the drunkard finally sobered up, he confessed that he simply couldn't miss a chance to make some money during the public holidays. Trying to sound convincing, he told the police, "I felt perfectly well."
As for the smell, he said, "[the alcohol] just hasn't evaporated yet." The examination results told otherwise, and showed that the level of alcohol in his blood was off the scale.
Legally, Gleb should have been fined and stripped of his license for drink driving but, for some unknown reason, nothing of the like has happened yet – Gleb still works as a taxi driver.
So, think twice before thumbing a lift next time, certainly during public holidays.
Is there a solution?
Russian car accident statistics are shocking. Not a single day passes without a car accident caused by drink driving.
Just on Sunday, when Gleb was caught by police, 631 car accidents were registered in the country, including 46 that involved drunk drivers.
It is not that the government 'sees no evil, hears no evil', authorities are trying to improve the situation and tougher rules have been introduced. Thus, according to Russia's Administrative Code, for drink driving one should be deprived of driver's license for one-and-a-half to two years.
According to Road Police data, the number of those drinking alcohol before getting into their cars has decreased since then. Regardless, last year 14,000 car accidents were attributed to drink driving. Some drivers do not see this punishment severe enough.
Could it be the strange scenario in that drivers are so fearful of accidents that they need some Dutch courage before hitting the road?
Hitting boozers hard in their pocket would perhaps be a lot more effective. For instance, in Norway, a businessman was ordered on Tuesday to pay a fine of €80,000 for driving 400 meters while drunk. This is of course, a heavier-than-usual sentence. The court had taken into account the man's wealth, but it's doubtful he would like to repeat his experience.
You can share this story on social media: