'No Cold War over Ukraine': Kerry calls on Russia to 'respect state sovereignty'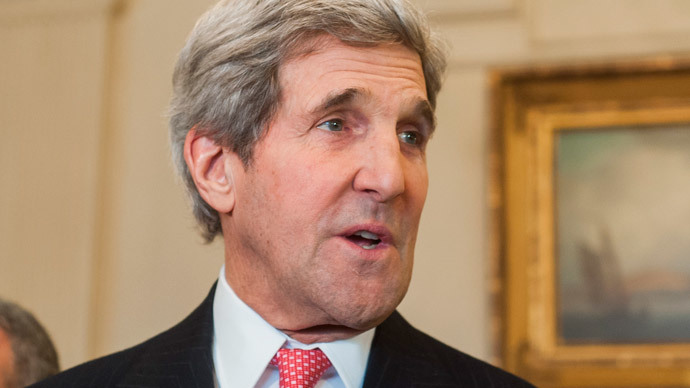 The chief US diplomat has warned Moscow to be "very careful" with its approach to Ukraine and respect its territorial integrity, following Russia's announcement of a surprise military drill to assess the combat readiness of its western front.
"I think Russia needs to be very careful in the judgments that it makes going forward here," John Kerry said in an interview with MSNBC's Andrea Mitchell. "We are not looking for confrontation, but we are making it clear that every country should respect the territorial integrity here, the sovereignty of Ukraine. Russia has said it will do that, and we think it's important that Russia keeps its word."

"We're hoping that Russia will not see this as sort of a continuation of the Cold War," Kerry said. "We don't see it that way. We do not believe this should be an East-West, Russia-United States – this is not Rocky IV, believe me."

Instead Kerry proposed that both the US and Russia use the opportunity to help Ukraine transition and stabilize the country.

Referring to Russia's increasing global diplomatic presence in particular to its peace efforts to reach a deal in Syria and its former endeavors on Libya, the US chief diplomat said that it would be very difficult for Kerry to comprehend "how Russia would reconcile its position on Libya, its position on Syria, its warnings against intervention in another country and then not respect the sovereignty of Ukraine and the will of the people there."

Kerry claimed that "hard statements" from Moscow in regards to Ukraine show that "to some degree, Russia has not been in touch with some of what's been happening on the ground there."

State Department spokesman Jen Psaki added to Kerry's remarks when she was questioned by reporters about the potential threat from Russia.

"In terms of the military exercises and rumors of military intervention, it's not just the Secretary who feels that would be a detrimental step to Ukraine and that would be a mistake."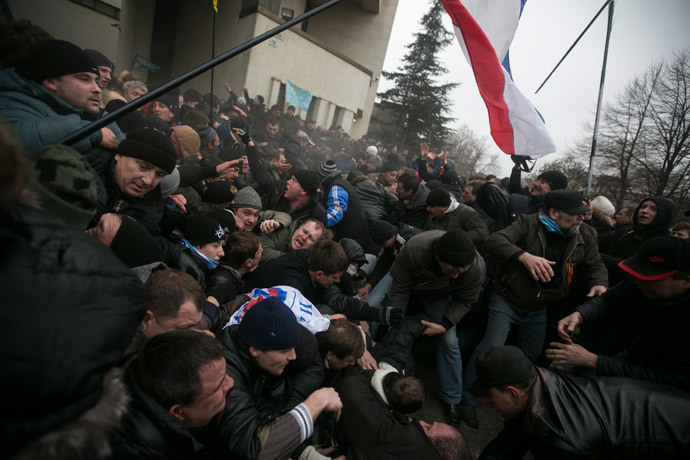 Kerry's interview echoed his statements on Tuesday where he rejected the possibility only one side could be a winner.

"This is not a zero-sum game it is not a West versus East, it should not be, it is not Russia or the United States or other choices," Kerry stated after a meeting with his UK counterpart, rejecting suggestions that the ouster of Ukraine's pro-Russia president and the politics around it are representative of a Cold War-era East-West divide.

"This is about the rights of a free people, a free democratic people to make their own decisions and we don't see it in a zero-sum way in international affairs," UK Foreign secretary William Hague concurred.

The US which is considering providing a $1 billion loan for the new government in Kiev has repeated that its role in Ukraine's affairs should not reignite fears of a new cold war.

Last week, US President Barack Obama said that he does not disagree with Russia over conflicts in Syria and Ukraine.

"I don't think this is a competition between the United States and Russia. I think this is an expression of the hopes and aspirations of people inside of Syria and people inside of Ukraine," Obama said last Wednesday.

"Our approach as the United States is not to see these as some Cold War chessboard in which we're in competition with Russia," Obama said. "Our goal is to make sure that the people of Ukraine are able to make decisions for themselves about their future, that the people of Syria are able to make decisions without having bombs going off and killing women and children … because a despot wants to cling to power."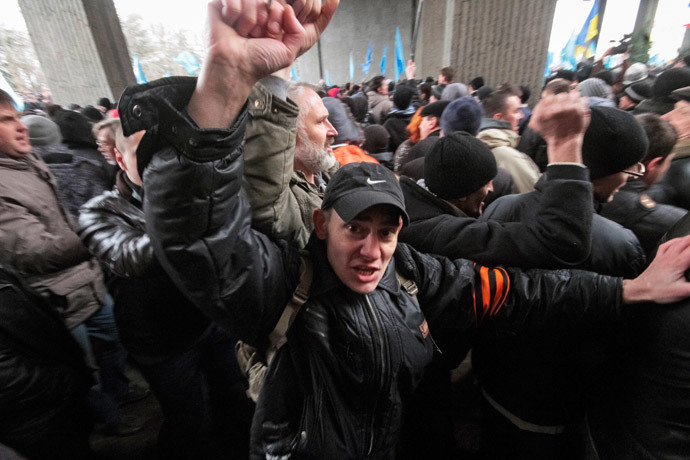 Kerry's remarks follow Moscow's announcement that it has ordered an surprise military drill of 150,000 troops to test the combat readiness of armed forces across western and central Russia.

Russia informed NATO and the OSCE of the military exercise in advance, making the matter as transparent as possible. The practice of surprise exercises was introduced last September but this time western media was quick to connect the drill to the situation in Ukraine.

The Defense Ministry said Wednesday that it is monitoring the situation around the Black Sea Fleet in Sevastopol. "Steps are being taken to ensure the safety of our facilities," stressed Defense Minister Sergey Shoigu.

In the meantime, protesters on the southern peninsula of Ukraine are staging rallies against Ukraine's interim government and have appointed a Russian-speaking mayor in Sevastopol, the capital of Crimea where Russia's Black Sea fleet is based.

The parliament of the Crimea autonomous region is deciding when to hold a session to declare the region's official position toward the new authorities in Kiev. The protesting majority demanded a referendum be held to decide whether Crimea should retain its current status as an autonomous region in Ukraine, to become independent, or become part of Russia again, as it was until 1954. The local community of Crimean Tatars in the meantime expressed support for the new Ukrainian authorities, and clashed with the rival rally in front of the local parliament.
You can share this story on social media: