Chronicles record Russian inferno years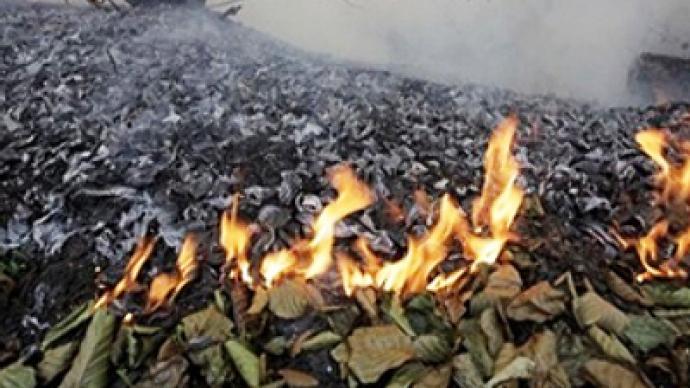 Heat wave and nauseating smoke have been occupying headlines in Russia for a month. However, the nation's history has numerous records depicting disasters of a similar scale. Here are some of them.
The earliest mass forest fire caused by an excessively hot summer in the Russian chronicles dates back to the late 13th Century. An unknown scribe wrote that, in 1298, "There was drought – bogs and forests set on fire."
In 1371, records depict a truly apocalyptic picture. "Black spots like nails came upon the sun, and for almost two moths a great pitch-black darkness covered the earth; a man's face was indistinguishable from a distance of two fathoms; birds could not see to fly, hit people in their heads and fell down to walk; beasts did not see the light and wandered into villages and towns, mingling with people – bears, wolves, foxes and other beasts." Apparently, the author's imagination gave a boost to his historian's quill.
Some distant colleague of the previous scribe claims that in 1431, "The sun was not seen, and fish died from smoke, and livestock and poultry smelled of it."
Fires in July 1735 were described by the royal hand of Empress Anna Ivanovna. In a letter to a court official, she complained about having to keep windows shut due to heavy smoke, and said: "We are surprised to see that nobody sees to hold off these fires, even though they have happened for a number of years in a row. Give an order to find out why this happens and send people to extinguish the fire as soon as possible."
Apparently the situation with fire brigades improved in Russia over the ensuing centuries. Famous writer and theater critic Pyotr Gnedich describes in his memoirs army units used to combat the burning peat swamps in 1868.
A similar account is given by General Dmitry Milyutin's diary in 1875: "While Western Europe complains about endless rain and a cold summer, we have an unprecedented drought. In Southern Russia, all crops and fruits have died, while forest fires near St. Petersburg are so intense that heavy smoke covers the city, especially in the evenings." The general, who served as war minister at the time, goes on to describe how the army saved a gunpowder factory and several military depots from going up in smoke.
Thorough recording of temperatures started in Russia only in the 20th Century, and over that time, heat waves and consequent fires have been recorded 11 times. The last natural disaster of this kind was in 1972.
You can share this story on social media: