Syrian Christians pray for peace on Christmas Eve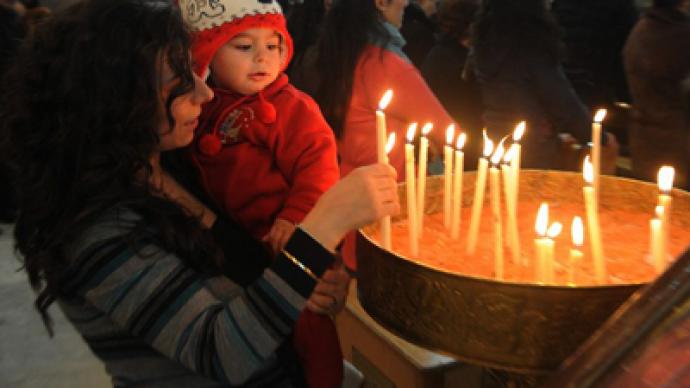 As disastrous civil war continues to ravage Syria, Christian communities across the country gathered to attend Christmas masses and pray for peace in the strife-torn land after almost two years of violence.
"I pray that peace and safety returns to the hearts of all Syrians," Heba Shawi, a Catholic attending mass at Notre Dame church in the Damascus district of Qusur told AFP. "I hope the smiles come back to children's faces."Bishop Joseph al-Absi, who led the mass at the Melkite Greek Catholic Cathedral in Damsacus, prayed for peace in Syria, asking God to protect the country and it leadership, according to SANA news agency.There has not been much joy in the air as usual as Syrian people continue to suffer from the ongoing fighting between the rebels and government forces that has already claimed over 40,000 lives. This year, there was only one Nativity crib on display in Damascus.Due to security concerns some services had to be held at 6:00 pm instead of midnight."The festive season is very sad this year. But we thank God despite everything," insurance broker Riad Ghanem told AFP.
There are some 1.8 million Christians, most of the Greek Orthodox, in Syria. Many of them have remained loyal to the Syrian regime fearing that the fall of Bashar Assad would result in a Sunni-led government which would crack down on minorities. Assad and the ruling elite who come from a minority Alawite sect – an offshoot of Shia Islam – have long been a safeguard of security and rights of the minorities.Meanwhile in Rome, Pope Benedict XVI marked Christmas Eve with mass in St. Peter's Basilica. The pontiff called on the faithful to find place for God in their busy, technology-driven lives. He also urged them to offer prayers for "our brothers and sisters in Syria, who are dying mercilessly."Last week UN human rights report said that the Syrian civil war is becoming increasingly sectarian, as Sunni-majority rebel forces fight government troops supported by country's religious and ethnic minorities.The report – which is based on interviews with Syrians who fled the country and covers the period between September 28 and December 16 – said that foreign fighters with links to extremist Sunni groups are infiltrating Syria to fight against the regime of President Bashar Assad.The foreign fighters, described as "militant, radical Islamists, or Jihadists," are reportedly operating independently but coordinate with the Free Syrian Army, an armed opposition group supported by Western nations.
You can share this story on social media: