Drunk Chinese couple buries car-hit victim alive - police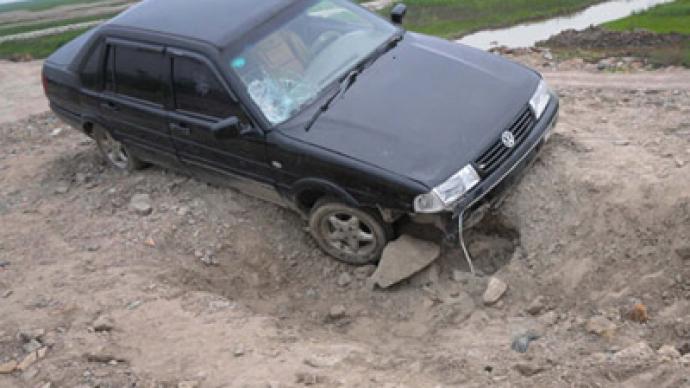 A young Chinese couple has been arrested for burying an elderly woman alive, having hit her while driving drunk after a boozy karaoke all-nighter. The case has sparked mass outrage forcing many to speak out about declining public morality.
The couple from Guizhou province, both 25, were returning on April 30 after a night out, when they reportedly hit a pedestrian. A witness heard a cry and saw an elderly woman lying on the ground, police say."A man and a woman got out and put the elderly woman in the car, saying they would take her to hospital," police officer Song, who is charged with the criminal investigation, told China Daily.But apparently the victim's condition quickly deteriorated, and the couple decided to hide what they considered a dead body, fearing punishment for a drunk driving kill. It seems they drove to a remote construction site, buried the still living woman and dumped the car.Construction workers discovered the vehicle with a cracked windshield and blood stains on its backseat the next day. The corpse was found some 300 meters from the car, buried in the mud."It's certain the woman was not dead when buried," police officer Zhou told the newspaper. "Legal medical experts detected particles identical to those in the surrounding soil in her lungs, which indicates she was still breathing."The victim was identified as a 68-year-old native of Anhui province named Fang.The suspected killers were detained on May 9 in the city of Liupanshui. They face charges of intentional homicide, if further forensic analysis confirms police's reconstruction of the crime.The incident received wide public attention in Chinese social networks, where many users called it an example of immorality of the country's modern society and younger generations in particular.
You can share this story on social media: