China to open disputed Paracel Islands for tourists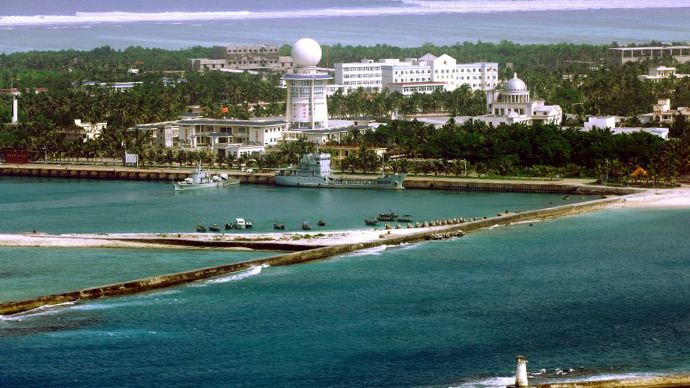 China plans to open up to tourists disputed Paracel Islands in South China Sea by the end of April, state media reports. The move may inflame a long-running territorial row with neighboring states.
Holidaymakers will be able to get the Paracels on cruise ships, one of which – a vessel of 47,000 tons that can accommodate 1,965 passengers – is ready to sail, Xinhua writes.
Details of tour routes will be released later, according to Tan Li - Hainan Province's executive vice governor. But people will be able to land on the islands for sightseeing ahead of Labor Day celebrated on May 1, the official said.
Tourists will eat and sleep on their cruise ships. The largest of the Paracels – 2-sq-km Woody (or Yongxing) Island – has only one hotel with 56 rooms, Xinhua reports. Besides that, there is no fresh water and all supplies are delivered from the continent.
"Prices will be relatively high due to the high costs of tourism infrastructure construction," Huang Huaru, general manager of a tourism agency in Hainan, told the agency.
In July last year, China established a city of Sansha on the Yongxing Island to oversee its territorial claims. The city has a population of over 400 people, and basic facilities, including a bank, a library, a hospital and a supermarket. According to Tan, local authorities plan to improve the infrastructure and build more ports and sanitation facilities.
The Paracels - made up of about 40 islets, outcrops and reefs – are claimed by China, Vietnam and Taiwan. Since a brief 1974 war with Vietnam, the group of islands has been occupied by China and is currently under the administration of Hainan Province.
In March this year, Vietnam accused China of firing on one of its fishing boats near the Paracels and setting the cabin alight. Beijing admitted that the navy fired flares at the vessel in the disputed waters, but denied that it caught fire as a result of the confrontation, AP reported.
You can share this story on social media: