Sweeping reforms: China to abolish labor camps, ease one-child policy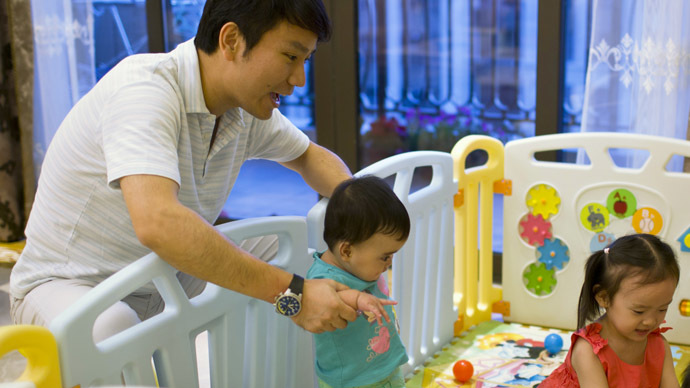 China has issued a detailed reform roadmap, which promises to abolish the controversial labor camp system and allow some families to have two children instead of one. The reforms are part of a plan to stimulate the decelerating Chinese economy.
Several key decisions were made at this week's gathering of top Chinese Communist Party leaders, known as the Third Plenum, the official Xinhua news agency said on Friday.
As part of the new "comprehensively deepening" reforms drafted in the official policy document, the Communist Party promised to close down its labor camps and abandon the controversial practice.
The Chinese 'reeducation through labor' system, which has been around since the 1950s, allows police to imprison petty criminals in labor camps for up to four years without trial. Operating outside the Chinese legal system, these labor camps have long been a subject of criticism because they allow police to issue and set sentences with no judicial control.

"There have been many methods used recently by this government that are against the rule of law, and do not respect human rights, or freedom of speech," Pu Zhiqiang, a prominent Beijing lawyer who represented several former labor camp detainees seeking compensation, told AP. But abolishing labor camps represents some "progress," making it "much harder" for the Chinese police to clamp down on people, he believes.

Another policy-changing decision, stated in the official document aims, to ease the strict one-child rule for Chinese families. The family planning law will now let couples have two children if one of the parents is an only child.
China's family planning policy was first introduced in 1979 to limit the surging population of the largest nation in the world. Until now it has restricted parents living in urban areas to having one child, allowing one more child for rural families whose first born was a girl.
However, now China apparently needs to respond to the problem of a rapidly ageing population, which, according to projections, could start depriving it of its workforce by 2025. Analysts have argued the one-child policy has already shrunk China's labor pool, hurting economic growth. In 2012, the Chinese working age population – which is about 930 million – fell for the first time in decades.
The document, presented as a wide reform roadmap, introduced a range of social and economic changes encouraging integration of rural and urban China and stimulating the private sector. It comes as Chinese leaders are looking for means of unleashing new sources of growth for the country's economy. The latter is expected to grow 7.5 percent this year, which for China is the slowest pace for 23 years.
Among the measures outlined, China would reform its administrative law enforcement system, scrap residency restrictions in small cities and townships, integrate urban and rural social security systems and push forward with an environmental tax. 
"The reforms are unprecedented," Xu Hongcai, senior economist at the China Centre for International Economic Exchanges think tank, told Reuters. "Reforms in the 1990s were limited to some areas, now reforms are all-round."