Eco warriors: China drops controversial pipeline after violent protest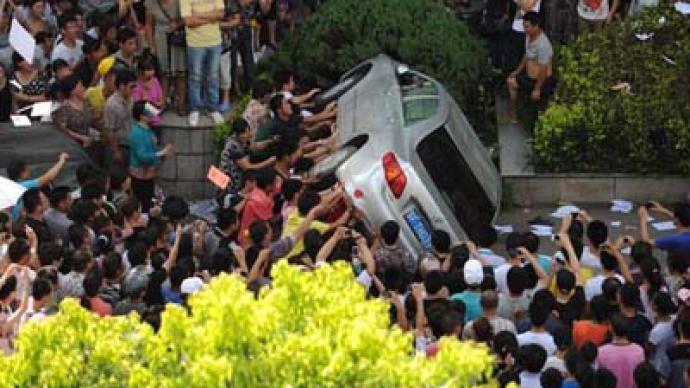 China's government has bowed down to public pressure and abandoned an unpopular industrial waste pipeline project, just hours after a street protest against it, which turned violent.
China's coastal city of Qidong saw a thousands-strong march of angry protesters clash with police and rampage in a city government building. They were opposing an industrial construction project, which they fear would poison region's water supply.Saturday morning's demonstration is the latest in a series of environmental protests sparked by plans to construct a pipeline from a paper mill located some 110 kilometer from the city, which would carry industrial waste into the sea.The protest involved more than 1,000 activists, according to Reuters estimates. AFP cites the eco-protesters themselves, who claimed they were numbered in the tens of thousands. The demonstrators clashed with police forces trying to maintain order, injuring at least several of the officers. They also overthrew several cars in their way.A group of demonstrators broke into the Qidong government building and ransacked it. The angry mob smashed computers, damaged furniture and threw out documents from the windows. They also reportedly looted items of value, including bottles of liquor and cartons of cigarettes – which Chinese officials often receive as bribes.The rioting comes just a day after city government announced it would put on hold the project for further environment impact research. The Japanese owner of the paper plant earlier assured that it does not pose any danger.But many Qidong residents are convinced otherwise. They fear the pipeline would cause poisoning of local groundwater and fishing resources. The announced suspension of the project and warnings from the local government that the gathering would be breaking the law did not deter the demonstrators.The Qidong pipeline conflict is the latest case of Chinese people strongly opposing industrial development plans over environmental issues. This month authorities decided to scrap a US$1.6 billion project for a copper plant in Shifang province, which local residents were protesting against.