20,000 Chinese officials penalized for being too bureaucratic
Published time: 2 Dec, 2013 15:16
Edited time: 4 Dec, 2013 06:03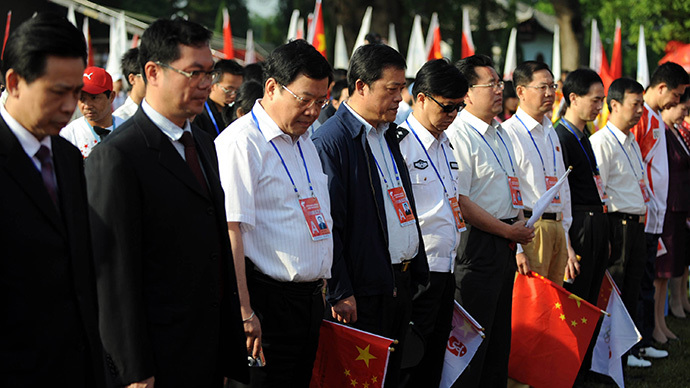 The Chinese government has punished over 20,000 officials in the country's rural areas this year as part of the Communist Party's nation-wide campaign, aimed at cutting down bureaucracy and excessive ceremony.
Around 300 of the disciplined officials held county-level government or Party committees posts, while the rest occupied positions in villages, the statement by the Central Commission for Discipline Inspection (CCDI) said on Monday.

"A clean leadership in rural areas is crucial to a harmonious society, as China is a country with large agricultural lands and a rural population of 900 million," the document stressed.

According to the anti-corruption watchdog, more than 5,000 public servants misused their official cars, while over 900 were guilty of organizing overly elaborate celebratory events.  The others were condemned for their "mediocrity" and "indolence," the CCDI said.

The officials, who violated the Party's rules, were mostly given administrative or internal party punishments, which weren't specified in the statement.

The crackdown on bureaucracy began in China in October last year, after the new president, Xi Jinping, took charge of the ruling Communist Party.   
Xi ordered that meetings be shortened, over-the-top welcoming ceremonies ditched and wordy, meaningless speeches be abandoned.

The president was looking to make the country's officials more efficient and less corrupt in an attempt to appease the population, angered by the power abuses of bureaucrats.

The situation was especially difficult in rural areas, where graft and inappropriate law enforcement by local officials led to farmers taking part in violent protests.

When the campaign was launched, Xi warned that endemic corruption threatened the Party's very existence, promising to go after officials on all levels, including high-flying "tigers" as well as lowly "flies".

And the heads are rolling in China, with the authorities already announcing the investigation or arrest of a handful of senior officials.

At the weekend, the vice governor of the central province of Hubei, Guo Youming, was removed from his post over corruption allegations.

The biggest graft probe into a state-run firm in years saw several former officials of oil giant, PetroChina, detained earlier in 2013.

And in May, Liu Tienan, the former deputy head of China's top planning agency, lost his job after online accusations of corruption were posted against him. A criminal investigation was subsequently launched.