Lights! Camera! Censorship! Hollywood fed up with Chinese 'brick wall'
Published time: 18 May, 2013 13:55
Edited time: 18 May, 2013 16:32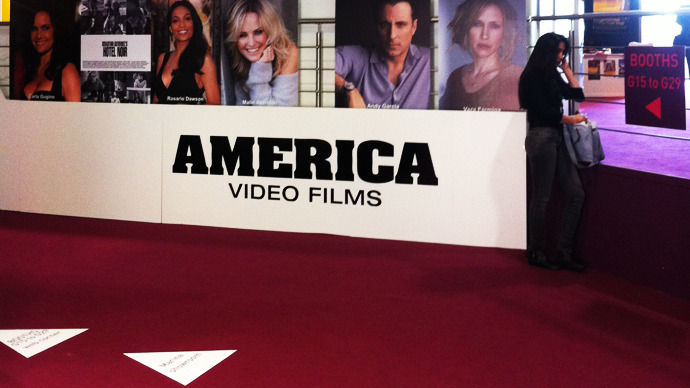 China's film market is the world's second-largest, just behind the US, but those shooting a movie in China inevitably come to grips with state censorship. Industry insiders say it's killing the multi-million dollar film business.
China recently became the largest foreign market for Hollywood. According to a report by Motion Picture Association of America, box office takings for American films have grown by 36 per cent last year. A number of film buffs meanwhile say that the US regards the Asian country as its biggest competitor.
"China, without a doubt. They look at Russia as a market that's growing its business. They look at China as becoming Number 1 film market in the world within the next 10 years," US film industry expert Sperling Reiсh told RT at Cannes, where an International Film Market is in full swing on the French Riviera.
There's no escaping censorship in China: the government censors all movies before they are allowed to be released. It's a system of protection making sure that anti-communist and anti-Chinese films, as well as those deemed overly vulgar and violent, are banned from screening.
Part of the ambiguity is that the 'rules of the game' are not clearly stated, and officials censor films by their own judgment. Each time US filmmakers release their multi-million-dollar productions in China, they end up running up against one and the same obstacle: strict censorship. Western films have to meet a set of unstated expectations and requirements to be among the 34 Hollywood films officially allowed in China each year.
Django Unchained: 'Nothing to replace China's state censorship with yet'

Last month Quentin Tarantino's slavery-revenge/action adventure Django Unchained was pulled from theaters in China, allegedly for 'technical reasons', with Hollywood insiders saying cuts were ordered by the local authorities.

The latest installment of James Bond saga, Skyfall, also had several 'sensitive scenes' cut out.

Some say censorship is the 'least of the worries' that foreign filmmakers shooting on location in China may be facing.
"The biggest problem has been getting the film in and the box office out. Usually during the release there will be censorship as there are only two distributors in the country, China Film Group being the main state-owned one. But the biggest problem is that there are no rules. I heard one studio executive recently saying that the issue with China is that there's always an issue in China. It's never very straight," Reiсh said.
"One thing that the Chinese government and film industry is miscalculating is that US studios are run by giant corporations that have shareholders to please. Rules have to be made clear, " Reich added.
The all-time box office record in China was set by Avatar, which grossed nearly $225 million in 2010. The highest-grossing Hollywood release in 2012 was the 3D version of another James Cameron hit, Titanic, which raked in $150 million, making China the world record-holder for sales of tickets of the film.
However, the version of Titanic shown to Chinese cinema-goers censored nudity in the movie – a shot was changed to show the nude Rose (Kate Winslet) from only her neck up. China's State Administration of Radio, Film, and Television altered the film's nude scenes over fears that audiences would try to reach out and 'touch' Winslet in the 3D version.
That same scene – where Winslet's character poses nude as Jack (Leonardo DiCaprio) draws her – was censored in China during the debut release of 'Titanic' in 1998, the Hollywood Reporter said. However, many in China managed to watch the original version on pirated copies; the nude scenes quickly became the talk of the town.
An international publisher for China's G-W Pictures, Oliver Dong, says that there's "nothing to replace this [censorship] system yet with. If we change it suddenly, we will be daunted." According to Dong, there's a "huge gap between China and the US, in every single aspect."


"There's some 20-30-year time gap between the two, with each country's economy being highly related to psychology. Economy-wise you can be rich, but spiritually - not so well-off."


"I don't think that the only competitor for the US is China; every country can be a competitor. It's just that they don't think another country can be better than they are. Several decades ago the US regarded Russia as its competitor, their enemy..." Dong told RT.
China challenged to cooperate 'not just with America'

A film expert from China's Huanxia Film Distribution company says collaboration is much better than competition, at least when doing business together.

"It's important for China to cooperate not just with America, but with all other countries. All audiences, no matter where they come from, have something in common," Ma Fang told RT.
 

In 2012, the box office of films released by Huanxia Film Distribution reached 5.4 billion yuan (over $860 million), increasing by 500 per cent of that of 2008. The company says it has also boosted its investment in co-production films. Since 2012, 10 films have been approved for co-production with France, Australia, Canada and Japan, while 21 are set to be co-produced with by China and the US.
When asked about censorship, Fang suggested changing the subject however, saying he would "rather not talk about censorship.""We are a state-owned company, Fang explained, I hope the system gets better." In the first quarter of 2013, Chinese films fetched a combined $570 million for a 69 per cent market share, leaving less than a third for the market for Hollywood, according to Variety.
The low-budget Chinese comedy Lost in Thailand, as well as films like Finding Mr Right and So Young, generated over $488 million at the box office, according to Hollywood Reporter. The domestic market accounted for nearly three-thirds of ticket earnings last year.
China also boasts the largest number of 3D movie screens in the world, at nearly 7,500. By 2020, the country is expected to overtake the US as the world's biggest box office marketplace, with 25,000 screens set to go up over the next five years, according to Ernst and Young.
China's film industry 'not affected by global economic crisis'

The CEO of Montecristo International, Cindy Nelson-Mullen, told RT that while many fellow US filmmakers have been hitting their heads trying to take bite out of the Chinese market share, her company has been lucky doing business with a number of Chinese companies without a hitch.


"We're small independent distributors, and our relationship with China has been on the production side. Our partners are a Hong Kong-based production company called Visual Magic. They are exceptional partners with tremendous amount of talent. They also look at it as an opportunity to get involved in the US market, as it's not a market that they've been able to crack," she explained.
Speaking of which, the biggest problem of the US film business is that it's a conglomerate, according to Nelson-Mullen.
"The US film business is owned by five companies. An independent filmmaker has a very difficult task and a tougher road to face. Everybody is struggling, it's a difficult time." But her partner from the Hong Kong-based Film Magic, Kirsty Fung, reassures that China "hasn't been affected by the economic crisis so far.""The money is there," the ambitious Chinese producer who studied in the US told RT. It's the matter of finding and matching the right investors, finding the right theme and then creating a good product. It's the same game, with an only exception that China is just more restrictive than others," she explained.
Fung says the real challenge for the US filmmakers is to create films that relate to audiences China. "I can't say that the Americans and the Chinese are so different. Business is business," she added.
"If you look at China as a state, it's been through a lot. It's a country that's not easy to match, with its own culture and its own diversity. There are over 1.3 billion people there, many of them are uneducated. To manage them is really difficult. The cultural transition within the society could take some 20-30 years," Fung predicted.
US film companies battle Chinese censorship with own restrictions

According to the producers from US movie company The Asylum, the Chinese film market has already begun to change.

"When we started dealing with Chinese film companies seven years ago, we came against censorship and the practice that those we were working with just didn't pay the bill. Later we've instituted our own restrictions. We had no problems since we've started asking to see a copy of the censorship failure letter explaining that this doesn't pass the censorship because it doesn't have any artistic value," Paul Bales told RT.

Bales and his partner David Rimawi believe that although the economic crisis in America has stepped back, other countries are not immune to the echoing consequences of the global slowdown.
"From our perspective, the worst is over for the US. Economy has recovered to an extent; business has stabilized. But now recession that we were in a couple of years ago is reaching the rest of the world, and Europe," Bales said.
In 2012 box office revenues reached $10.6 billion in North America; attendance rose 6 per cent for the first time in many years. Meanwhile, box-office revenues in Italy went down by 8 per cent and 6.5 per cent in Spain, according to the European Audiovisual Observatory.
Film buffs from The Asylum note that while everyone is talking about business opportunities of doing business with BRIC countries – Brazil, Russia, India and China - with their lucrative emerging markets, they are in fact "more difficult to work with than any others.""I wonder whether when the US started off in the 1700s everyone said, 'Oh gosh, the Americans... they are the worst!'" Bales said.
Valeria Paikova, RT, Cannes