​Cancer-inducing benzene traced in China water supply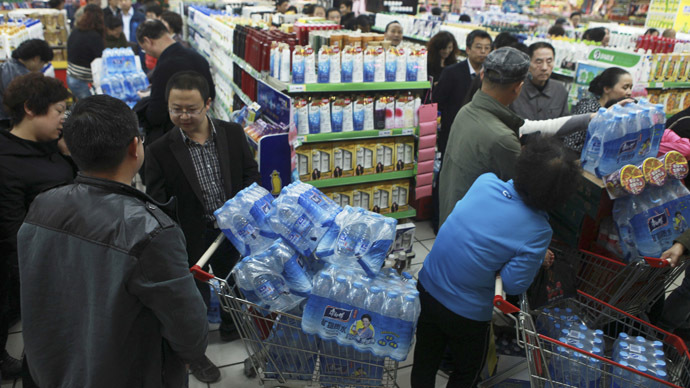 Residents of Lanzhou, northwest China, have started panic-buying bottled water after city authorities confirmed the lethal chemical compound benzene was contaminating the city's drinking water at 20 times the national safety level.
Lanzhou warned its 2.4 million residents not to consume any water from the tap on Friday after tests conducted at a local water plant showed that the liquid contained 200 micrograms of benzene per liter rather than 10 micrograms per liter – the nationally recommended limit.
"Lanzhou has shut down the contaminated water supply pipe and deployed activated carbon to absorb the benzene," local authorities said in a statement.
Supermarket shelves were left empty as there was a mad rush for uncontaminated drinking water from bottles. Citizens stockpiled crates of water as the government warned them not to consume any of the tap water for the next 24 hours. The water supply was switched off in one district.
"It's not just bottled water that is gone. Even all the beer and milk has been snatched up," one resident wrote on Weibo, a Twitter-like social networking site.
People in Lanzhou, NW China, rushed to buy water after excessive benzene was detected in the tap water system on Fri pic.twitter.com/ZjyPKHSraL

— People's Daily,China (@PDChina) April 11, 2014
Veolia Water, is the sole water supplier for more than 2 million people in the city, according to China's Xinhua agency. They stated on Friday that the pollution was because of industrial contamination. Lanzhou is a heavily industrialized city and ranks among China's most polluted.
"Initial investigation showed the high levels of benzene were caused by industrial contamination at one of the two culverts that transfer raw water from a sedimentation plant to the water treatment plant," Veolia said, reported Reuters.
No solo culprit was named in the contamination. However, the environmental bureau is following up the matter.
Benzene - a colorless liquid frequently used in the production of plastics - is notorious for its cancer-inducing properties.
The incident marks the second water contamination scare in as many months, Last month, residents noted a strange smell after turning their water taps on. The source turned out to be ammonia. However, it was within national safety limits.
You can share this story on social media: