Naval disparity: China's 1st aircraft carrier almost online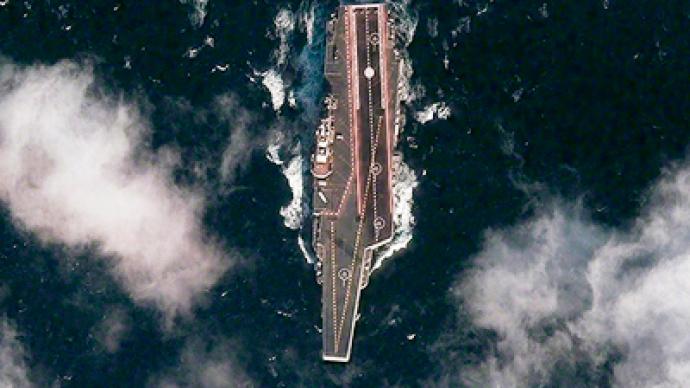 A commercial satellite has caught China's first aircraft carrier as it was undergoing a sea trial. The vessel is part of China's rapid military buildup, which some countries see as threatening.
The DigitalGlobe company said Wednesday it had captured the warship on December 8 as it was traversing the Yellow Sea. China is testing the brand new addition to its Navy, after it underwent a major overhaul at the port of Dalian in the north-eastern province of Liaoning. Beijing says it will be used for training and research, but some neighbors suspect it has more sinister plans for the giant once-Soviet vessel.The Varyag aircraft carrier was laid down in the late 1980s by the Soviet Union, but was never completed. It ended up in the hands of Ukraine after the Union's collapse. Kiev sold it to Beijing in 1998 as a shell, with no engines, weapons or navigation system.China initially said little about its intentions, although rumors circulated that it may be used as a floating casino or shopping mall. It was later revealed that the ship would have a military purpose after all. The Chinese Navy is to use it as training area for naval pilots. The Varyag's design will also contribute to China's future aircraft carriers.So far the vessel, which is unofficially dubbed Shi Lang, has undergone two rounds of sea trials, Chinese media reported.Military experts believe that the warship will be operational by year's end, but it will take more time to arm it with aircraft. China has several vehicles designated for the ship, including J-15 and JT-9 jets and Z-8 combat helicopters.China's increasing military spending is unnerving several countries, which have standing conflicts with Beijing. Washington fears that the effort may tip the balance of power in the region, which is currently in favor of the US and its allies.The rising superpower has a record of spectacular technological achievements over the last few years. Despite the global economic crisis, it managed to launch a manned spacecraft, performed a spacewalk and begun building a national orbital station.