Kids filmed firing heavy arsenal at tyke terror training Camp in Pakistan (VIDEO)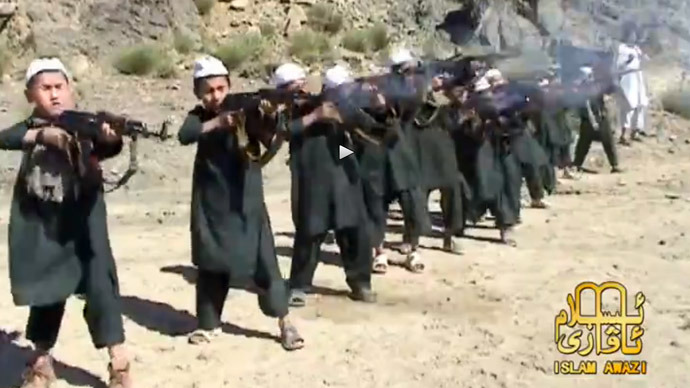 Video footage allegedly showing Kindergarten-aged children firing an arsenal of heavy firepower at a terrorist training camp in Pakistan's tribal area has surfaced online.
Young children garbed in shalwar kameez can be seen lined up in neat rows, straining under the recoil as they fire semi-automatic pistols.

Moments later, footage shows a kneeling child who is dwarfed by his AK47. The boy struggles with all of his might to pull back the bolt before the video cuts to him firing as an adult with a digitally blurred face watches on.

A group called the Turkistan Islamic Party, based in the lawless Waziristan region on the border between Pakistan and Afghanistan, has been credited with creating the video, the UK Telegraph reports.

The video, entitled "Little Commandos," was reportedly posted on an underground al Qaeda website before later being uploaded to LiveLeak.

The little known group is believed to operate camps for militants who carry out attacks in Afghanistan. They have been accused of launching hundreds of terrorist attacks over the past two decades.
Waziristan has borne the brunt of the US drone war as Washington has regularly pressed Pakistani authorities to crack down on militants operating with virtual impunity in the area.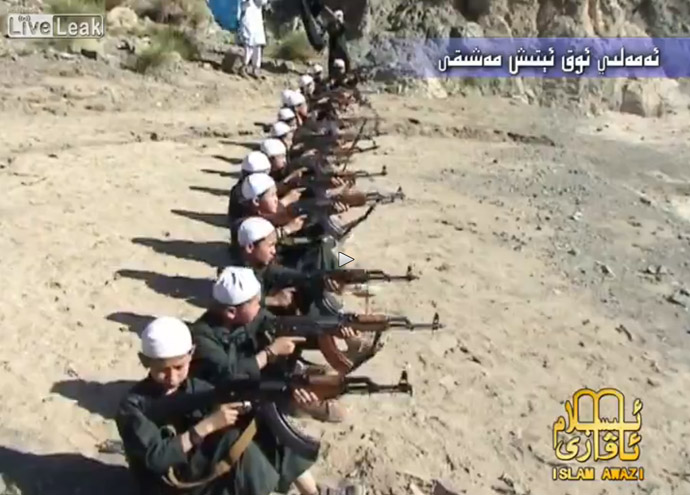 Last Wednesday, a US drone fired two missiles into a Taliban training camp in South Waziristan, killing five militants and destroying the compound.
Three days prior, the US reported that another five militants had been killed in an airstrike in the neighboring tribal area of North Waziristan.
Some 95 percent of the 338 US drone strikes carried out within Pakistani territory since 2004 have occurred within the region.
Pakistan has publically denounced US drone strikes, saying they violate the country's sovereignty and inflame anti-American sentiment. However leaked US diplomatic cables showed Islamabad may have tacitly agreed to them in specifically designated 'Restricted Operating' or 'Kill Zones.'
You can share this story on social media: