UN: Thousands of children fleeing Syria alone, vulnerable to abuse and exploitation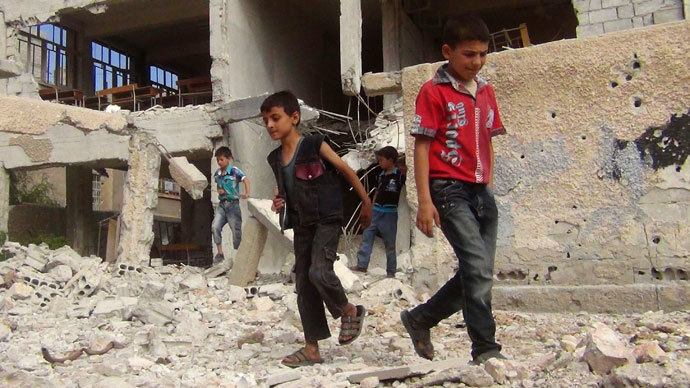 Over 4,000 Syrian children have fled the nation without any adult supervision, a United Nations agency said, stressing that children are extremely vulnerable to abuse and exploitation when they do not have a chaperone.
The UN's Children's Fund (UNICEF) said Friday that aid workers have identified and registered 4,150 Syrian child refugees. Spokesperson Marixie Mercado said that many fled into Syria's neighboring countries. "We're working to provide income back to families, and we're desperate to get [the children] back to school."  
At least 1,698 of the children are located in Lebanon, where many have been used for cheap agricultural labor. They have no choice but to work in order to receive food, water, and shelter. Many are also responsible for younger brothers and sisters, with hundreds pulled out of school to work for their family's survival. 
"Families are poor and destitute after two and a half years of war…Often, in order to continue living here, they have a lot of expenses they need to pay and the result is that kids have to work," UNICEF's regional director for the Middle East and North Africa, Maria Calivias, told Reuters. 
Another 1,170 children, many under 10 years old, now call Jordan home. They have taken refuge in the Za'atari camp, a makeshift home for fleeing Syrians that has grown to a population of 120,000 - making it the fourth largest population center in Jordan. 

"Each of those children has witnessed or been the victim of horrific levels of violence," Mercado said.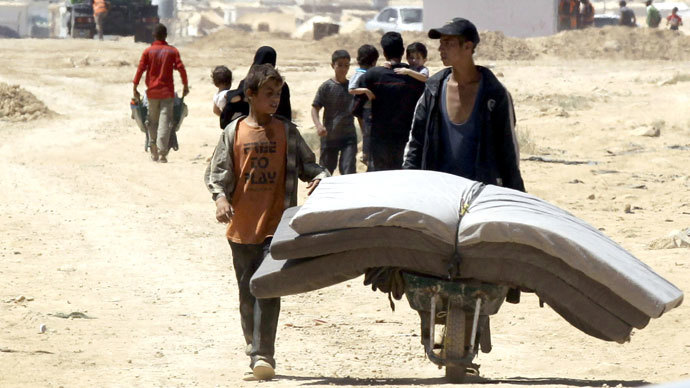 The Jordanian government announced Thursday that it plans to open another camp to house the thousands of Syrians, young and old, who continue to cross the border. 
Lebanon, unlike Jordan, does not allow permanent encampments – partly because of the nation's experience with Palestinian refugee camps that were overcome by militants during the Lebanese Civil War between 1975 and 1990. 
"We can't have permanent tents," Calivis told Reuters. "Every night, we take the tents down, and every morning they have to be put back up. So imagine, that is 365 days, take tents up and down, for 300,000 refugee students." 
The horror and displacement so many children have endured is a consequence of the Syrian civil war between the government of Bashar Assad and over 1,000 opposition groups dedicated to his removal from power. 
The conflict began over two years ago, has claimed more than 100,000 lives, and has recently seen the US threaten to deploy a missile strike against the Assad government for its reported use of chemical weapons. Yet many have complained that, as world powers posture, the plight of the Syrian people has been lost in the conversation. 
"These are the humanitarian issues and the human rights issues that are really spiraling out of control inside Syria – we need our political leaders to address those as well," UN Under-Secretary-General for Humanitarian Affairs and Emergency Relief Coordinator Valerie Amos said Friday. 
As many as one million of the two million people who have fled Syria are children, according to UN numbers.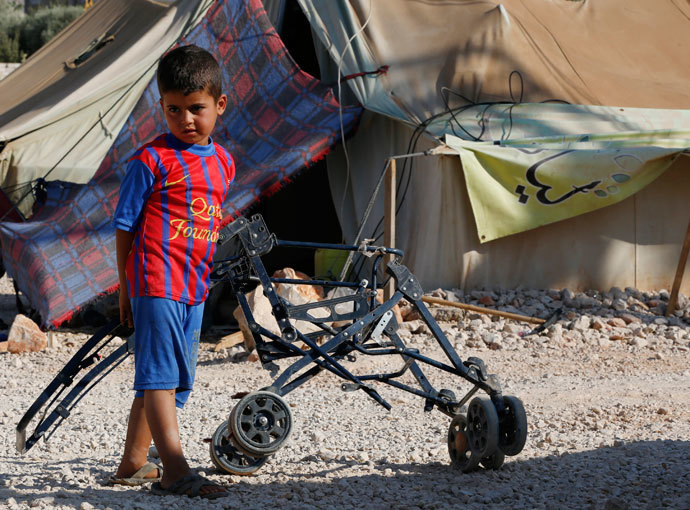 Education has traditionally been one of UNICEF's top objectives and is especially important in the Syrian culture, as demonstrated by the lengths that people have gone to in order to receive schooling. 
"When we visited places inside Syria, we would see in the middle of the shelling, parents holding their kids by the hand and accompanying them to nearby schools," Calivis said. "That is how crucial they saw their children's education. Education is a passport for their future when they've lost everything else." 
But as the war has continued and the sudden influx of refugees has overwhelmed host countries, education has fallen behind survival on the list of priorities. 
"Absorbing them in the current school system is impossible, but starting new schools that can accommodate such numbers and finding qualified teachers, funding, and facilities has proved to be extremely difficult," wrote Aziz Abu Sarah, a journalist for National Geographic who traveled to various refugee camps. 
"There is barely any monitoring to guarantee the schools' quality, and in its absence, radical ideas can easily become part of the curriculum…Five years from now, due to this lack of foresight, the world will have to deal with an uneducated and very possibly disenfranchised generation that is ripe for radicalization."
You can share this story on social media: