Child of HIV-positive parents forced out of kindergarten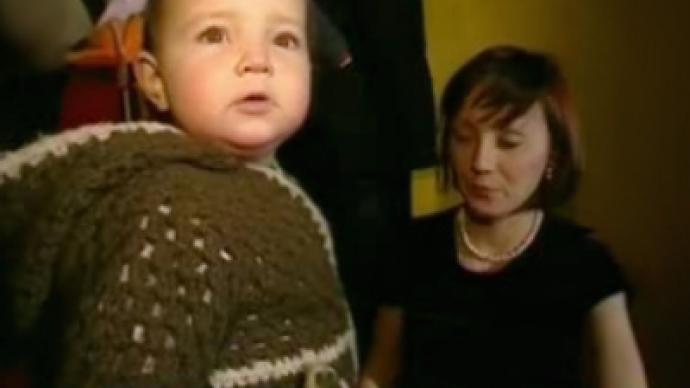 Two-year old Eva-Maria has had to leave her kindergarten after just two weeks because her parents are HIV-positive despite medical tests proving the girl was absolutely healthy and posed no risk to other children.
A few days after Eva started attending the kindergarten, the mother of one of the other children approached Gulnara Shagimullina, the head of the kindergarten n°203 in Kazan, for a talk. Having learned on the Internet that Eva's parents had HIV, she was worried about the safety of other children who came into contact with the girl.
Shagimullina explained to the woman that the girl was absolutely healthy and there was no risk to other children. "There was no conflict. We showed the woman the girl's health record and she seemed to calm down. That was the end of the incident".
However, most parents of other children felt their children were at risk and didn't want Eva to stay. Gossip continued behind Eva's and her parents' back.
Eva's mother Svetlana Izambayeva decided to take her daughter away from the kindergarten after she received a phone call from the kindergarten's nurse. Svetlana says the nurse urged her to "take Eva away as soon as possible."
An official of the department of primary educational institutions in Kazan said that they "did not push Eva's parents to take the girl away form the kindergarten. They just must be offended by the situation."
The kindergarten says it's the mother's fault that such a scandal has arisen. "If she had explained everything to us, our reaction would be different. But she didn't tell us anything".
However, according to Russian legislation Svetlana has the right not to reveal her HIV status.
The situation is still being discussed. Most parents say they don't want a child of HIV-positive parents to come into contact with their children. Eva now goes to another kindergarten where nobody knows her family's story.
Hard to live with HIV
Eva's parents speak openly about their illness. They try to tell people that those who are HIV-positive still can have healthy children. Eva's mother works as the head of the fund for fighting and preventing HIV.
Carefully following all doctor's recommendations and taking special medicines during pregnancy raises the possibility of giving birth to a healthy child up to 97 per cent.
HIV tests are taken three times: when the child was born, at the age of six months and at the age of 18 months. If all these tests show the kid is healthy, it means that the child doesn't differ from any other healthy children.
Now Svetlana Izambaeva is pregnant with their second child.
You can share this story on social media: