Child falls from eighth floor…while adults shoot video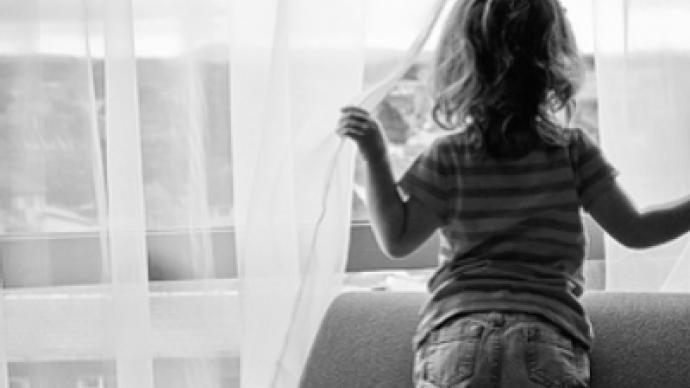 A three-year-old child has died after falling from an eight storey window. The girl could have been saved were it not for the indifference of adults who, instead of helping, filmed the scene on their mobile phones.
When doctors arrived at the spot, Komsomolskaya Pravda newspaper writes, Kristina Sulanova was still breathing. However, she died on the way to hospital in the small city of Miass in the Urals.
"I was at the window watering flowers," a woman from a neighboring building is quoted as saying. "Then, all of a sudden, I noticed something that looked like a package or a doll falling down. When I realized it was a child, she was already on the ground."
"There were many onlookers downstairs, but none of them were rushing to help her. Only a minute later a man ran to the girl. Others were just standing and filming everything on their mobile phones," she said.
Could Kristina have been saved?
On that tragic day, everything was going wrong in the Sulanov family. The morning started with a visit of doctors who came to help Kristina's mother. She was in pain because of a stomach ulcer. As a result of a nervous morning, the girl's grandmother had high blood pressure.
It is no wonder that when doctors left, everyone – including little Kristina – felt exhausted and went straight to bed. However, the girl quickly recharged her batteries and was full of energy again.
She got dressed and, without adult attention, was playing on the windowsill. There were quite a few people on the busy road near the house. Shocked by what was going on, many stopped to watch the "show". However, no one lifted a finger to prevent the tragedy. Instead of trying to find something that could be used as a safety net to catch the child or running upstairs to ring the door bell, the adults took their mobile phones and started shooting.
It was only three to four minutes later that Kristina noticed a cat walking on the windowsill and tried to reach out for the pet. Her little hands slipped and the girl fell down.
Now a criminal case against Kristina's relatives may be launched. Utterly devastated, they keep blaming themselves for the tragedy.
"It's my fault," said Kristina's grandmother Luydmila. "The room was stifling and I opened the window," she added, crying.
Perhaps if passersby were not that indifferent, Kristina Sulanova would still be alive.
Barbaric behavior
Meanwhile, leaving people in danger and simply watching and shooting what's going on, has become an alarming trend.
In May, controversy over footage of a traffic accident shot with a mobile phone camera was brewing on Russian blogs. The author of the video preferred filming people burning alive instead of using the phone to make an emergency call.
In April of last year, a six-year-old boy fell down from a Ferris wheel in a small Siberian town of Berdsk. Again, whilst the child was struggling for his life a crowd of passers-by was watching and recording the scene on their cell phones to post it later on the internet.
In July this year, two Ukrainian female students from different universities in Kiev dissected a dog in a kitchen and posted shocking pictures and video on the Internet.
So what is happening with people's minds? Where does this indifference and carelessness come from? Are we becoming barbarians? Internetua.com website quotes Alla Yaroshenko, a psychologist as saying:
"Respect for death is one of the basic concepts in human's culture. Violation of such subconscious taboos reveals serious psychological problems."
"It's those who are trying to protect themselves from the fear of death who film someone else's death and then publish those footages. They are merely watchers – nothing threatens them," she continued.
The psychologist said that some people, once having become a witness of an accident, become a sort of "death collectors". "They look for such scenes in order to experience the illusion of safety once again."
She said that filming and watching such footage can also be typical for persons who feel the need to cause pain to others but – afraid of consequences – suppress their aggression.
"There are also those who seek fame by shooting road accidents," the specialist said.
You can share this story on social media: