UN checking 7 reported chemical incidents in Syria, incl 3 near Damascus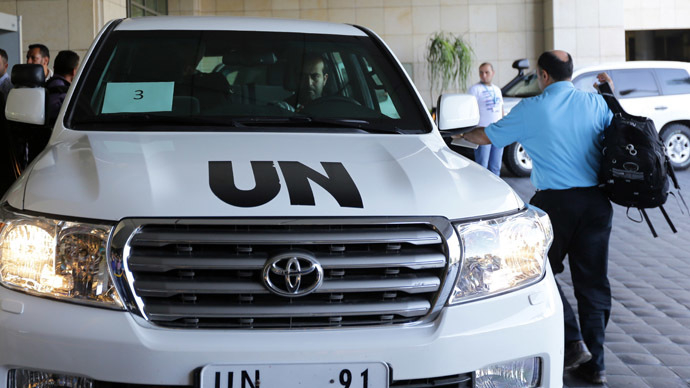 UN chemical weapons inspectors in Syria are investigating seven cases of alleged chemical weapons use, including three incidents around the capital Damascus. This comes following the chemical attack on August 21 in Ghouta.
The inspectors are due to finalize their work on Monday, the UN team in Damascus said in a statement on Friday, adding that a comprehensive report is expected to be ready by late October. 
In August the Syrian government allowed the UN investigation to visit and take probes at three locations of alleged chemical attacks, including the Khan al-Assal attack in March.

However their work was disrupted by the August 21 attack in Damascus's eastern Ghouta suburbs, causing casualties that ranged from dozens to 1,300 according to various accounts.

In their report the inspectors confirmed that sarin gas was used "on a large scale" in the attack. 
However the report did not specify who was behind the attack, while both sides of the ongoing Syrian civil war blame each other.

Nevertheless, the US and Britain believe that the forces loyal to President Bashar Assad used the chemicals, basing their conclusions on the UN experts' assessment of the technical characteristics of warheads found at the attack site.

Damascus claims that the UN investigators had ignored evidence passed to them confidentially, while Russia and Syria urge the US and its allies not to jump into conclusions too quickly.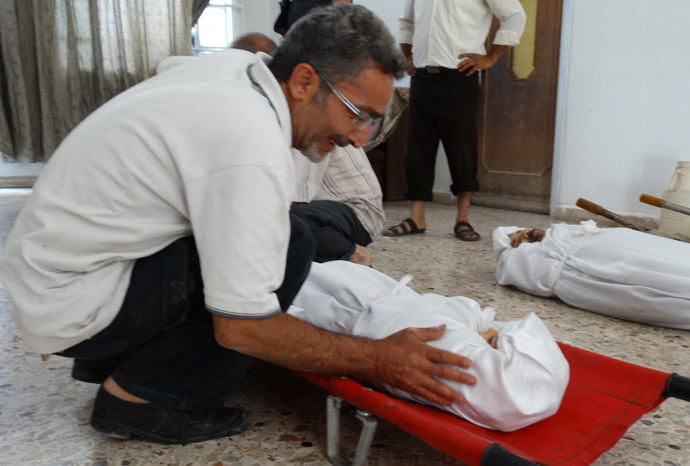 Syria has become a full member of the global anti-chemical weapons treaty, while Assad personally vowed to hand over the country's chemical arms to be destroyed. 
The Organization for the Prohibition of Chemical Weapons (OPCW) is to discuss a disarmament plan for Syria on Friday.

The preliminary plan suggests that its team will inspect "any other site identified by a State Party as having been involved in the Syrian chemical weapons program, unless deemed unwarranted by the Director-General," according to a copy of the draft plan obtained by the  Associated Press.
This is a departure from the OPCW's usual practice, which is to suggest only the investigation of previously inspected sites declared by member states.
The OPCW has proposed starting the inspection "as soon as possible, and no later than 1 October 2013," saying that all efforts to destroy Syria's chemical weapons stockpiles should be completed in the first half of 2014. 
The UN Security Council may vote late Friday on the resolution, which has been drafted and submitted by Russia and the US after their talks in Geneva on the destruction of chemical weapons in Syria.
Russian Foreign Minister Sergey Lavrov said Thursday that if there was a violation of the resolution by any party to the conflict, including the Syrian opposition, the UN Security Council should take measures to enforce it in accordance with Chapter 7 of the UN Charter. He added that such action does not imply immediate military intervention.

You can share this story on social media: