'Boxing Bout': Chechen leader pummels Sports Minister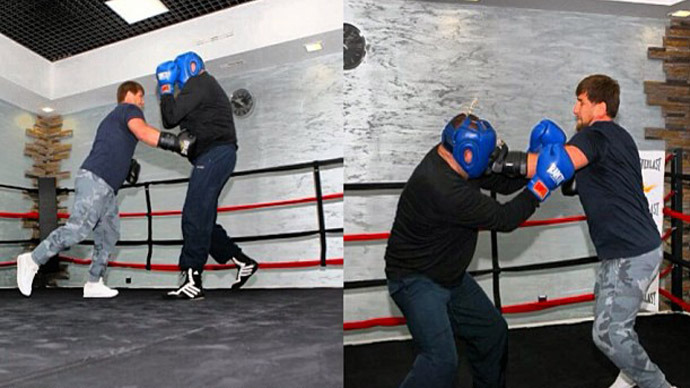 If you're the Sports Minister in Chechnya, you have to learn to go with the punches, especially if they come from the head of the republic Ramzan Kadyrov.
On a recent visit to the Sports Ministry, the President of the southern Russian republic was unhappy with what he saw, and decided to take on minister Salambek Ismailov in the ring.
Gloved up the pair sparred, working up a sweat, and ironing out their differences.
"As promised, I've conducted an educational talk with the Sports and Culture Minister – in the ring. In the course of our dialogue (or, more accurately, sparring), I pointed out with a right and a left hook, gently and unassumingly, I explained to him in simple terms that one should use his head," Kadyrov wrote in the comment to pictures he posted on Instagram.
Kadyrov says the building was shabby and something needed to be done. "The minister has already started to correct his mistakes today, so I allowed him to wear a helmet. He still has to work tomorrow," he wrote. 

Watching anxiously ringside were the Labour Minister Mohmad Ahmadov, and Minister for Social Development Maksim Topilin, who are next in line said President Kadyrov jokingly, "We'll see after tomorrow's meeting whether Ahmadov will be punished in the ring as well."