'Stay out': Madonna slams US plans for Syria strike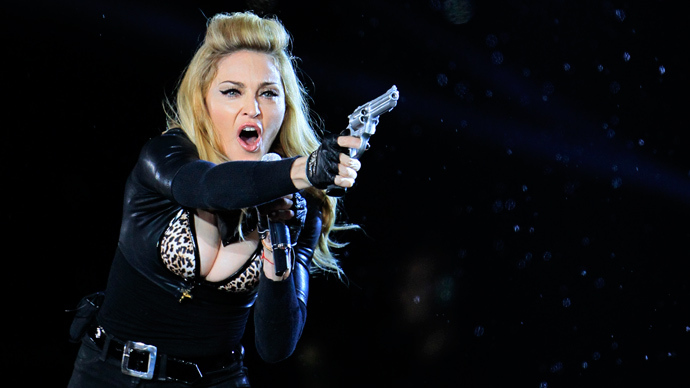 American pop star Madonna has spoken against US President Barack Obama's plan for a military intervention in Syria. Celebs and designers are striking a pose on the Arab country crisis – ranging from strike support or disapproval to dire provocations.
"US stay out of Syria!" reads a photo of a hand-written message posted on the famous singer's Instagram page. The plea comes as the US Congress is expected to vote next week on striking Syria. 
In less than 19 hours, Madonna's appeal garnered about 30,000 'likes' from users of the popular photo-sharing service and sparked a discussion on the page.
Some people did not quite welcome the pop singer's call, saying that the US should intervene in Syria to stop the Bashar Assad government after an alleged August chemical weapons attack near Damascus. While politicians keep clashing over whether the proof points to the regime or the rebels using toxic chemicals against civilians, some web surfers have already made their verdicts.
"There is good evidence chemical weapons were used, killing hundreds, and the world just let it happen. Someone needs to step in. Otherwise, other nations may use chemical weapons on its citizens knowing they'll get away with it. Now I'm not in favor of war, but I'm in favor of the US going to Syria to stop the regime," wrote a person named andreaswolke.
"When the Republicans took us to Iraq it was ok but when a Democrat does anything war related it's not ok? The safety of the planet is on the line," agreed user amendoros.
Meanwhile, freedomlover88 wants to know why people are not asking any questions as to whether "bombing Syria" will make things any better, how many more victims it could lead to, or which of the sides in Syria is telling the truth about not being behind the chemical weapons use.
Still, some people would prefer celebrities to keep away from politics. "Can someone remind Madonna that her job is just to entertain us please?" commented javitheflyingmonkey.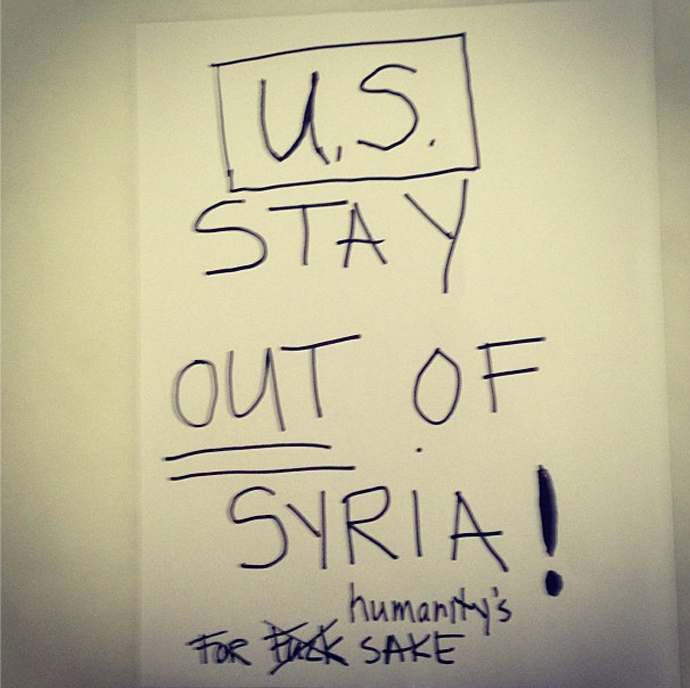 American actress, Alyssa Milano, managed to come up with an odd blend of entertainment and politicking. The Charmed star released "a sex tape" on the FunnyOrDie comedy video website to attract public attention to the Syrian problem.
The scene is set in a hotel suite with candles creating a romantic atmosphere. A couple – Milano and a handsome man – are enjoying their vacation; there's a video camera overlooking a large bed scattered with rose petals. But, just as time for action in the 'amateur video' comes, the camera angle shifts and focuses on a news report on Syria.
And US clothes designer, Kenneth Cole, has gone even further with what he now claims to be an attempt to draw attention to important issues. But to many followers of the fashion guru's Twitter account, his grossly insensitive tweet seemed to be rather an attempt to draw customers' attention and to try to profit from the Syrian conflict. 
"Boots on the ground" or not, let's not forget about sandals, pumps and loafers. #Footwear

— Kenneth Cole (@KennethCole) September 5, 2013
The phrase "boots on the ground" was used earlier by Obama and Secretary of State John Kerry as they pushed for the US strike on Syria. Cole's comment immediately stirred up outrage among his followers who accused the designer of "mocking war to sell fashion." Later, responding to critics via an Instagram post, the designer stated that his tweet was a provocation.
"For 30 years I have used my platform in provocative ways to encourage a healthy dialogue about important issues, including HIV/AIDS, war, and homelessness. I'm well aware of the risks that come with this approach, and if this encourages further awareness and discussion about critical issues then all the better," he said.
You can share this story on social media: