Catalonia to press for independence despite red light from Madrid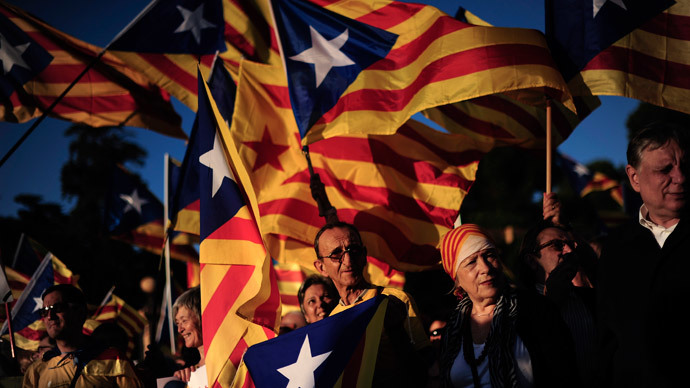 Despite the Spanish parliament's rejection of Catalonia's bid for independence vote, the referendum cannot be stopped and regional institutions will keep looking for legal ways to conduct it, Catalonia President Artur Mas has vowed.
The Spanish parliament met on Tuesday in Madrid to discuss whether to give Catalonia the chance to hold a referendum to break away from Spain on November 9.
After a seven-hour debate, 299 lawmakers voted against, 47 voted for and one abstained. The rejection was expected with the country's two main parties against the plan.
The ruling conservative Popular Party is fiercely against the idea of Catalonia seceding. They are supported by the opposition Socialist Party, as well as the centrist Union for Progress and Democracy.
"They are afraid of the Catalan people's vote," Mas said after votes were counted. "Some would like to present this as the end of the matter but, as President of Catalonia, I say to them that it is not the end."
"Catalan institutions will search through the legal frameworks to find a way to continue with this consultation," he added as cited by Reuters.
Artur Mas did not attend the parliamentary hearing, which he says was "a mere formality," because he would prefer not to give his political opponents in Madrid the "great victory" of watching him lose the resulting vote in the flesh.
Mas had earlier vowed to press ahead with the planned referendum. He told reporters Sunday: "If they say no, they will say no to a law. But they can't stop the will of the people of Catalonia."
He is also under pressure from the Catalan Assembly, which is trying to pull out all the stops to ensure that Catalonia breaks free from Madrid. The assembly has even set a proposed independence date of April 23, 2015, the feast day of St. George, who is also the patron saint of Catalonia. According to Reuters, opinion polls show that roughly half of Catalans support independence, but a much higher number want the right to vote in a referendum on independence.
Historically Catalonia, which already enjoys significant autonomy from Madrid, has been one of Spain's better-off regions and the local population has resented having to send their taxes to the capital to help support poorer areas of the country. However, the area of 7.5 million people is currently €57.1 billion euros ($78.5 billion) in debt, which is the most of any of Spain's 17 autonomous regions.
Catalonia, which accounts for one- fifth of Spain's economic output, has had no problem in attracting foreign investment, which grew by 31.5 percent in 2013 according to figures from Spain's economy ministry.
Marc Guermo from the VP Alde Party, a Europe-wide liberal political party, told RT that Catalonia would have no problem looking after itself economically.
"Catalonia is one of the strongest countries of south Europe, our economy is a strong one, we have the highest rate of exports, and we have a really open economy," he said. "Our capital, Barcelona, is one of the top places in terms of tourism, trade and visitors and for this reason we think that Catalonia will be a completely normal state in Europe in the next few years."
However, Spanish think tank IEE is warning of economic hardships if Catalonia goes down the road toward independence, citing a possible 30 percent drop in trade with Spain and an exodus of businesses from the region.
During a debate in parliament Tuesday Spanish Prime Minister Mariano Rajoy said that he "could not possibly conceive of Catalonia outside of Spain. I defend that Catalonia should remain in Spain because I can't conceive of Spain without Catalonia nor Catalonia outside of Spain and Europe."
You can share this story on social media: