Madrid threatens to block Barcelona's 'illegal' independence bid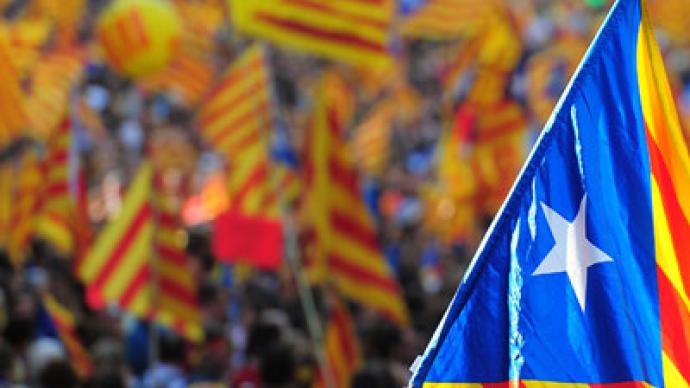 Madrid has warned Catalonia that it has the sufficient means to block the fugitive region's "illegal" plans for a self-determination referendum, as two Catalan political giants unite to pursue their battle for independence.
Deputy Prime Minister Soraya Saenz de Santamaria announced Wednesday that the country's central government believes the vote would be unconstitutional, saying, "our legislation has many mechanisms to stop any illegality."But despite strong opposition from Madrid, two of Barcelona's heavyweight political parties have signed an agreement calling for the self-determination vote anyway in 2014. The new union paves the way for Artur Mas, of the conservative Convergence and Union party, to be sworn in for a new term as Catalonia's leader despite his fall from grace after a call to vote two years ahead of schedule backfired. Now, he is set to push for the region's independence in collaboration with Oriol Junqueras, of the Republican Left of Catalonia."We aim to put the future of Catalonia in the hands of the citizens of Catalonia, and to do that we want to consult them democratically," said Junqueras.A similar move was made by Spain's Basque region in 2005, and was rejected by Madrid. Catalonia, unlike the Basque region, is Spain's most economic powerful region – but having requested €5 billion ($6.6 billion) in bailout funds from the central government, it is also the most indebted due to the economic crisis strangling the nation. Many Catalans complain that their region pumps money into the central government's coffers, with little sent back in return. It is a legitimate point – Catalonia pays at least $15 billion more in tax revenues than it receives back in social spending or investments in infrastructure.Yet campaigners for independence argue that the real reason for Madrid's announcement is its inability to deal with its own financial troubles without support from the regions. "Spain is afraid to be alone without the economical input of Catalonia, but the Catalans are determined to make it work for everybody, because we're not against the Spanish. We don't want Spain to fail. We just favor Catalonia, and for ourselves not to fail inside Spain", Anna Arque, a regional independence campaigner, told RT.European Union officials have also stated that an independent Catalonia would have to reapply for membership. Recent polls suggest that though the region is evenly divided over independence, a majority opposes it if it means leaving the EU.But some in Barcelona say that the EU will only benefit from an independent Catalonian state. "Catalonia is a rich country: we have €200 billion GDP. Imagine how beneficial that will be for Europe? So, no doubt, we will survive," Arque said.
You can share this story on social media: