Cargo plane crashes in Ghana capital, hits bus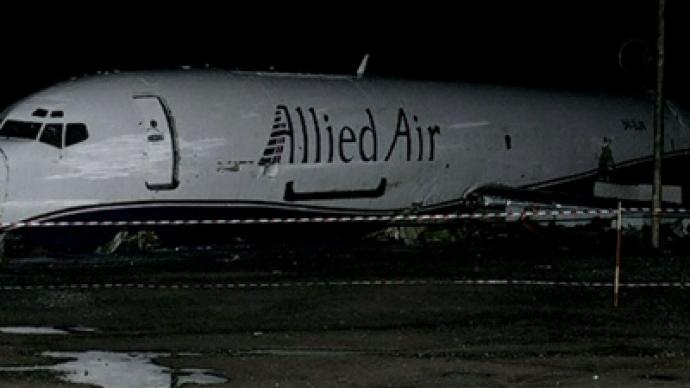 A cargo plane has crashed during landing at an airport in the Ghanaian capital of Accra hitting a bus full of passengers. At least 10 people have been reported dead.
The accident occurred Saturday night at Accra's Kotoka International Airport. The Boeing 727 belonged to Nigerian cargo airline Allied Air. It crashed through the airport's perimeter fence and slammed into the bus on a nearby street.At least 10 passengers who were on the bus were killed in the accident,  the Associated Press reports citing Billy Anaglate, spokesman for the Ghana Fire Service. He added that the plane's four crew members have survived and were taken to a nearby hospital."What happened is that the Allied (Air) Cargo plane, actually I was told, was traveling from Nigeria to Ghana. At the landing it was short of the boundary, and it went off onto the road side. It crashed into a bus that was bound for Accra," Anaglate said."... (The plane) broke the barrier and went onto the road and hit the vehicle and unfortunately in the vehicle everyone ended up dying. The poor people were killed," he added.The country's Vice President John Dramani Mahama told reporters at the airport that a thorough investigation would be carried out, but "no early conclusions should be drawn."Ghana Aviation Authority sources say they suspect brake failure may have contributed to that crash. The airport operator, Ghana Airports Company Limited, said operations were continuing as normal and flights were as scheduled.
A general view of the Kotoka International Airport, in Accra (AFP Photo / Tugela Ridley)