Lawyers against law: Montreal legal eagles parade against anti-rally bill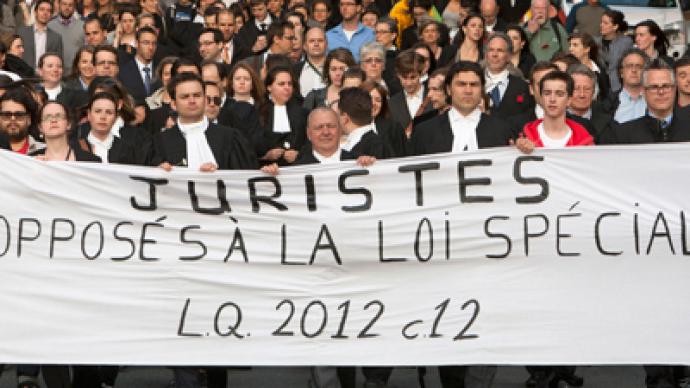 Hundreds of lawyers have marched through Montreal in a subdued challenge to a new bill that harshly limits public protests. Canada's province of Quebec has gone through 106 days of massive actions, which started as student outrage over tuition hikes.
On Monday, over 500 lawyers, notaries and other legal professionals, dressed in their courtroom gowns, walked in silence through the streets of Canada's second-largest city. The black-robed parade protested Bill 78, an emergency law that lays down strict government regulations for demonstrations numbering over 50 people. The lawyers were cheered by crowds; many onlookers shouting "Merci!" Nevertheless, the lawyers' protest was laid out just in accordance with the controversial bill, as they are sworn to uphold the laws of the land. So the local police had received the itinerary of the march eight hours prior to the event.Remi Bourget, one of the organizers, says some lawyers were worried they might be fined under the new bill for taking part. "That's why we especially wanted to march legally, in our black robes and in silence," Bourget told The Montreal Gazette.The lawyers oppose the law passed on May 18, though it mainly targets students and teaching staff. The lawyers find it unjust and "probably unconstitutional." "There are so many vaguely worded parts to this law," points out lawyer Denis Barrette. "It gives an incredible amount of discretionary power to police. It also makes the education minister judge and jury when it comes to deciding if student groups are legal."
Bill 78, set to expire after a year, followed mass student protests in the province of Quebec that have been raging for over 106 days now, with 2,500 arrests made. Originally, students took to the streets to protest a massive 75 per cent tuition fee hike, but now their demonstration has absorbed anger against the emergency bill.The 35th consecutive night of student demonstration began with people walking through Montreal banging pots and pans. The protest was quickly rendered "illegal" by police, who still allowed the rally as long as no criminal acts were committed. Quebec students say their protest entered a new phase on Monday, as they again sat down with the government. University studies are suspended till mid-August and tourist season, which includes a car race and a number of musical festivals, opens. Thus the students believe they will have the upper hand in the new round of negotiations.
Polls taken in recent months suggest that most Quebecers support the tuition hikes, reports The National Post, a Canadian daily. The polls also show the province's residents want to see the conflicting sides negotiate, so several sessions have been held this spring. The hikes have not been canceled, but their implementation has been somewhat slowed.Meanwhile, the Canadian public has been hit by another new bill, introduced last month to the Canadian parliament – the "Jobs, Growth and Long-Term Prosperity Act." The 425-page document is accused of tightening the screws on organized labor, as it would require unions to publicly list all recipients of contracts valued at $5,000 or more. Over 13,000 websites across Canada are planning to protest the "undemocratic" bill with a June 4 blackout to highlight their cause.