Canada's French launch $7mn campaign to fight homophobia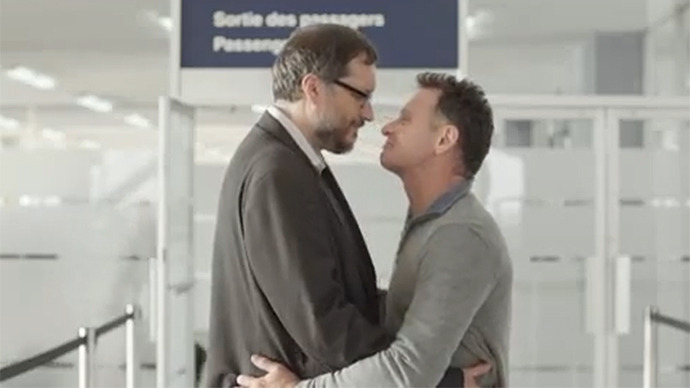 The Canadian province of Quebec is launching its new five-year anti-homophobia ad campaign, costing the public US$7 million. The project asks people to question their open-mindedness, despite a majority saying they are comfortable with homosexuality.
The campaign is being funded by provincial government and consists of unique TV, radio and web ads that aim at fighting stereotypes.
The first two TV advertisements were aired on March 3, causing quite a stir in the Quebecois community.
The main point of the campaign is for the viewers to take a moment to question their own stereotypes on the issue.
Both ads show couples going about their day, with the viewer finding out that both couples are gay at the very end of the ad, when each of them shares a kiss. Afterwards, a question is posed:"Does this change the way you thought 20 seconds ago?"
"We learned in our research that Quebec is viewed as open to sexual diversity — but homophobia still exists," Martine Delagrave from Cossette Communications, a firm that was hired to develop the ads, told CBC. "We believe it'll take Quebec society farther down the path of openness."
In preparation for the campaign the French-speaking province has conducted a survey of 800 residents to understand where each one of them stands on homophobia.
Ninety per cent of respondent said they were open to sexual diversity and 78 per cent stated that they are comfortable with gays and lesbians, while 40 per cent stated that they were not comfortable with seeing two men displaying affection in public.
The lowest acceptance rate was for transgender people, with only 45 per cent of those surveyed saying they were okay with the idea.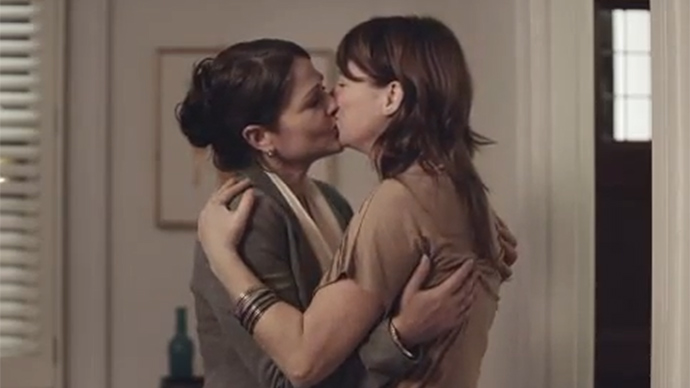 Since the launch of the campaign, the provincial government has received nine written complaints about the ads.
"The tone of the complaints [was that] many were jolted by the sight of two men or two women kissing in a government advertisement," spokesman Paul-Jean Charest told the CBC.
Other complaints criticize the campaign as a waste of public funds on a topic that is not viewed as an issue in Quebec.
Charest stated the idea is to entice personal reflection on the subject and not to shock people.
Simultaneously with the TV ads, the campaign launched a website, which has been gaining popularity on a daily basis, with 48,000 'Likes' on Facebook already and over three thousand re-tweets.
"It's got people talking and, if we were in a situation where everyone was entirely accepting, we wouldn't be talking about it," Delagrave said.
The two ads will run until the end of March and be followed up by a second survey to see if attitudes have changed.
"We don't think that a four-week campaign will change everything, but we believe it'll take Quebec society farther down the path of openness," explained Delagrave.
More advertising is planned for 2014-15 that will target the topic of same-sex parenting.
Quebec's Justice Minister Bertrand St-Arnaud said that this kind of a campaign is the first of its kind, not only in Quebec, but also in Canada and North America.
Quebec is not the only one in the spotlight this week when it comes to fighting for gay issues, with Britain's Queen about to sign a charter dubbed the '21st Century Commonwealth Magna Carta' which promotes gender equality, but considered by many to actually be a gay rights bill.
The move is viewed as one of the most controversial in her 61-year reign.
The charter states: "We are implacably opposed to all forms of discrimination, whether rooted in gender, race, color, creed, political belief or other grounds."
The key is to promote gay and gender issues across the Commonwealth, a move that resonates in Quebec already.
You can share this story on social media: