Cameron tells Danish PM to sell off Mandela memorial selfie for 'a lot of money' – report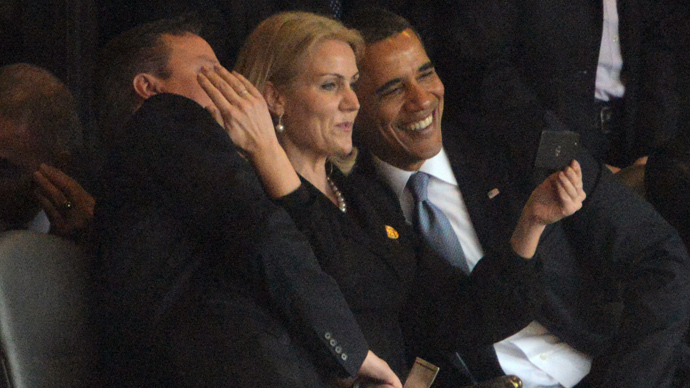 David Cameron has tried to persuade his Danish counterpart not to delete the selfie of the two leaders mugging for the camera with President Obama at the Nelson Mandela memorial, saying she should auction it off for charity, The Sunday Times reports.
Images of Obama and the British prime minister posing at the behest of glamorous Danish Prime Minister Helle Thorning-Schmidt threatened to overshadow the tributes to Nelson Mandela, and sparked heated reactions and a widespread media debate about the relationship between public etiquette and modern technology.

UK's The Sunday Times says that Cameron and Thorning-Schmidt had a "private conversation" last week in the aftermath of the fallout from what has only half-jokingly been termed 'Selfiegate," in which he tried to convince the Dane to sell the photo.

"Helle wanted to delete it, but Cameron urged her not to. He pointed out that it could raise a lot of money," reports an inside source from Downing Street, according to the newspaper.

But the photo itself has not been seen.

As anyone who has taken a selfie knows, the fun of posing for the camera is not always matched by the final image, which can be marred by bizarre angles and forced expressions of bonhomie.

"It's not a very good picture," Thorning-Schmidt told Danish media earlier this week.

Downing Street has reportedly refused to confirm or deny whether the conversation really took place, but all three leaders pictured have staunchly defended their photo location choice.

"It wasn't inappropriate. There were lots of pictures taken that day, and I just thought it was a bit fun. Maybe it also shows that when we meet heads of state and government, we too are just people who have fun," Thorning-Schmidt told Danish daily Berlingske.

"There was a sadness, but it was basically a festive event that also celebrated a man who has lived for 95 years and achieved so much in his life. There was dancing on the stands...And then we took a really fun selfie," she added.

Obama has not responded directly, but the White House has complained about the media focus on the story, saying "it's a shame" that it "detracted from the event and the importance of Mandela's legacy."

Meanwhile, Cameron even managed to fire off a well-rehearsed zinger about the incident at this week's Prime Minister's Questions in parliament, based on the fact that the Danish leader is married to the son of Neil Kinnock, the former leader of the opposition Labour party.

"In my defense, I would say that Nelson Mandela played an extraordinary role in his life and in his death in bringing people together," Cameron told MPs.

"So of course when a member of the Kinnock family asked me for a photograph, I thought it was only polite to say yes."

Cameron himself is an old hand at handing his personal belongings to charity auctions, and items in the past years have included doodles, post cards, and even the bike helmet he famously wore when cycling to work.

Meanwhile, a bottle of the famous White House Honey Ale personally signed by Barack Obama attracted a bid of $1,200 when auctioned off earlier this year by a Minnesota man who accidentally met Obama and received it as a present.
It is expected that the infamous selfie would fetch far more impressive numbers.
You can share this story on social media: