Riots follow Cambodian elections as opposition rejects results (PHOTOS)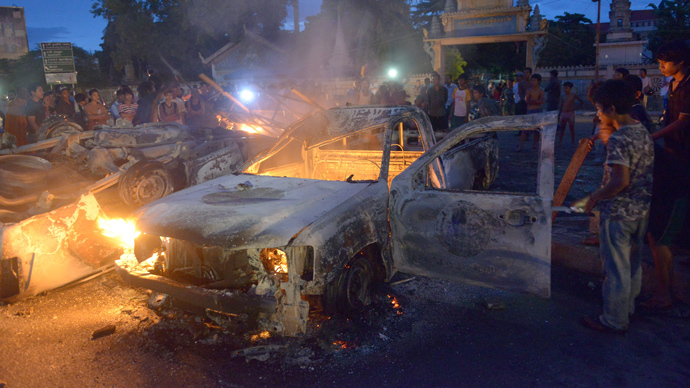 The Cambodian opposition has rejected the results of Sunday's election, in which Prime Minister Hun Sen's party won by a small majority. Angry members torched cars in front of polling stations in defiance.
The rioting began on Sunday in the capital Phnom Penh, culminating a day-long demonstration against voting irregularities, the Cambodian Daily reported. The protest was staged by voters who failed to find their names on voting lists during the election.
Many demonstrators held an election commission official inside the polling station, accusing her of failing to address their complaints.
The protest turned violent after an alleged attack at one of the disgruntled voters, a Buddhist monk.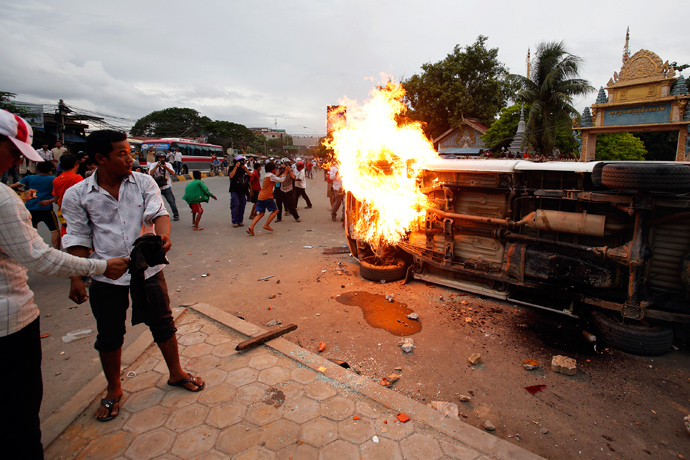 As a group of more than 100 military police officers arrived to release the official, hundreds of people pelted them with rocks.
Officers withdrew from the angry protesters as the crowd smashed windows and overturned and set fire to two police cars. A man was also reportedly beaten senseless by the rioters.
Riot police armed with water cannon were deployed to the area, but did not clash with the protesters who eventually dispersed.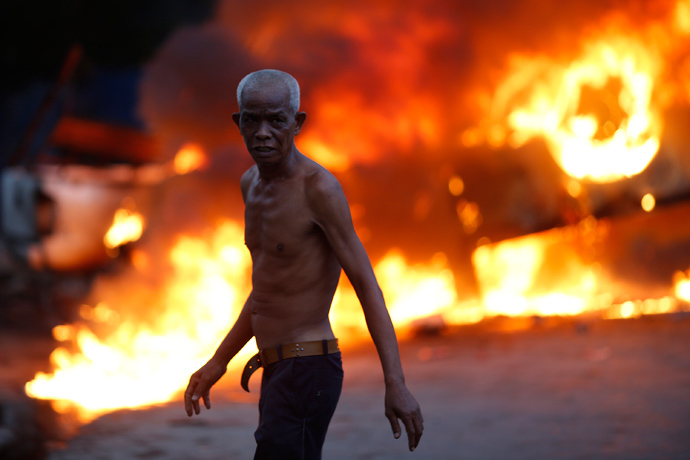 On Monday, the country's main opposition party - the Cambodia National Rescue Party (CNRP) - rejected the results of the Sunday's election.
"There were 1.2 million to 1.3 million people whose names were missing and could not vote. They deleted our rights to vote, how could we recognize this election?" Sam Rainsy, leader of the CNRP, who recently returned from exile, told a news conference.
The party demanded a probe into the irregularities by a committee set up with members of the political parties, the election commission, NGOs and the UN.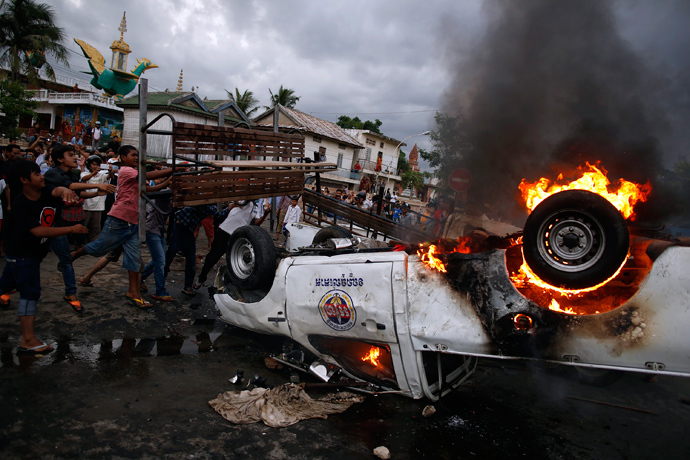 The ruling Cambodian People's Party (CPP) won 69 parliament seats in the popular vote, leaving 55 others to opposition parties.
The result was deemed a setback for authoritarian-leading Prime Minister Hun Sen, who is among the world's longest-serving political leaders.