Chinese bullet train derails in lightning incident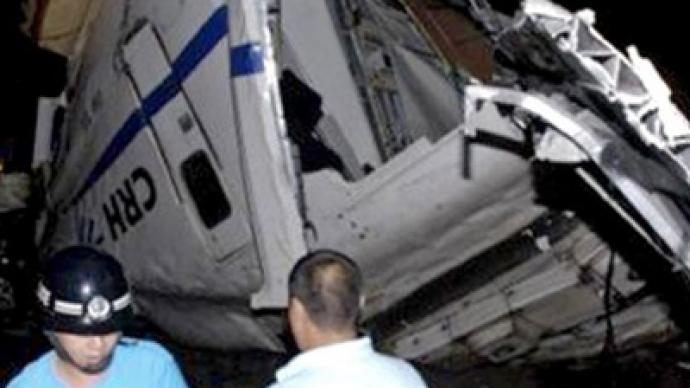 At least 43 people have been killed and 210 injured after a bullet train smashed into another train in eastern China.
According to Xinhua news agency, late on Saturday the D301 high-speed train rear-ended the D3115, which was stalled on a bridge after it had been hit by lighting in Zhejiang province.The Chinese authorities have decided to suspend 58 bullet trains as a result of the accident. Passengers can return their tickets and airlines are organizing additional flights to the most popular destinations. The first four carriages of the D301 fell off bridge, while two carriages of the previous train were derailed but did not fall. Each car has a capacity of approximately 100 people.Nineteen bodies have been identified so far, two of them foreigners. There were about 1,400 passengers on both trains. There also have been reports that a toddler has been pulled from the wreckage. Firefighters rescued an unconscious infant about 21 hours after the crash.The agency earlier quoted a witness as saying that rescuers have dragged many passengers out of a car on the ground. The trains crashed at 8:34 pm local time en route to the city of Fuzhou from the provincial capital Hangzhou. Rescue efforts are underway.The trains involved are the so-called "D" trains, first-generation bullet trains with an average speed of about 150 kilometers per hour.China's railways, which the government continues to heavily invest in, have recently been hit by a series of major scandals.The flagship Beijing-Shanghai rail line, which opened just this month, has already experienced several power cuts which left passengers stranded in trains for hours.