Bulgaria vessel towed to shallow waters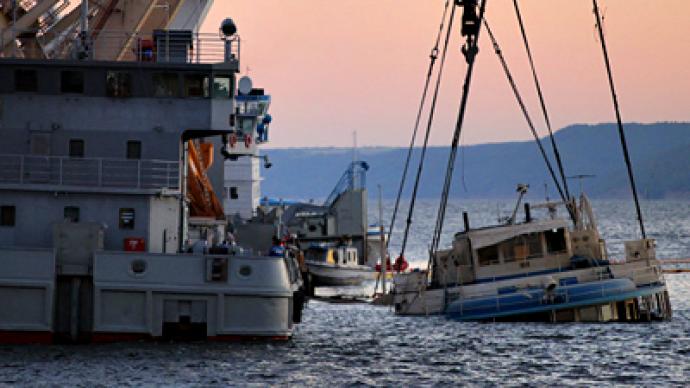 The cruise ship Bulgaria, which sank on July 10 in central Russia, claiming 114 lives, is being towed to shallow waters to be further transported to shore. Eight people who were onboard are still missing.
The vessel is being towed to a backwater some 11km away by the two floating cranes that earlier dislodged it from the bed of the River Volga. Twelve ships are accompanying the Bulgaria to the shallow waters. At the shore, the vessel is awaited by experts who are preparing to examine it. The vessel is still full of water, which needs to be pumped out.The operation to raise the sunken ship in Russia's central republic of Tatarstan started a week ago, but has been hampered by weather and technical complications. It was only on Friday that engineers successfully detached the stern of the ship and its bow from the sticky mud of the river bed.Only 79 people survived the sinking of the Bulgaria, which was carrying 201 people on the day of the catastrophe. Eight bodies are still missing. On Saturday, Russia's Emergencies Ministry said the bodies of six women and two men are being sought and confirmed that no children are among the missing.
You can share this story on social media: