Americans unwittingly sponsor the country's wars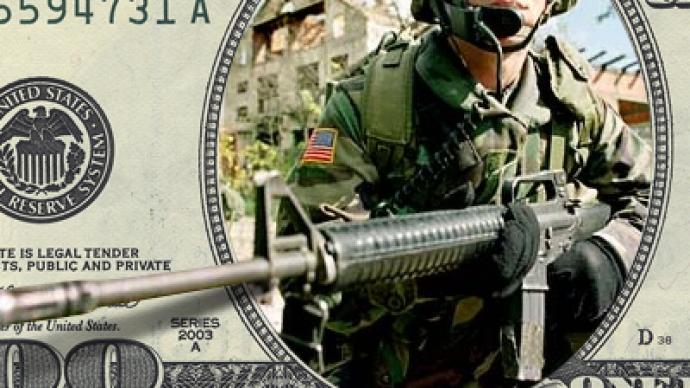 US lawmakers have decided on $38 billion spending cuts, none of which will be coming out of the country's defense budget as this year planned military spending is $700 billion.
Plenty seems to be on the US chopping block this week – healthcare, education, and infrastructure – everything except for the Pentagon."I would be very reluctant to cut defense spending with the two conflicts we're in", explained John McCain, US Senator.Worldwide, in 2010, military spending increased by $20.6 billion, with $19.6 billion of that being in the US alone, according to the Stockholm International Peace research Institute.Dr. Sam Perlo-Freeman, head of the Defense Expenditure Project at Sipri believes the US considers itself special: "The US very much sees itself as a global military power, the only global military power, the only superpower and it perceives its security interests as encompassing the whole world".Last year, the US spent more on its military than the next ten highest spending countries combined. Both Presidents Bush and Obama have ramped up the wars, forcing defense spending in the country to rise by 81% since 2001."This seems to reflect a bipartisan prioritization of military power and military conceptions of security even in the face of such difficult economic times", said Dr. Sam Perlo-Freeman. An American earning $50,000 a year will see more than $2,000 of their income go directly to the country's wars.  Those tax dollars also go to maintaining over 1000 US bases and sites worldwide, as well as the Pentagon's 234 golf courses."That means children, poor women, homeless take care of the needs of our population. To spend enormous amounts on the Pentagon budget while every social program is being cut is just fraudulent and obscene", complained Liz Hourisan, a US peace activist.Fifty-four cents of every dollar Americans pay in taxes goes to paying for past and future wars. But as President Obama calls on Americans to sacrifice during economically tough times, many Americans wonder when it will be the Pentagon's turn to tighten its belt.
Sherwood Ross, who runs the Anti-War News Service, believes that large corporations will do their best to keep the military-industrial complex going full force."Large corporations are making enormous money on this, while the rest of America's economy is starving," he said. "American opinion on the wars in Afghanistan and Iraq has been changing rapidly… Americans want peace, they don't want wars."
You can share this story on social media: