Britain to double aid to Syrian opposition in 2014 - Cameron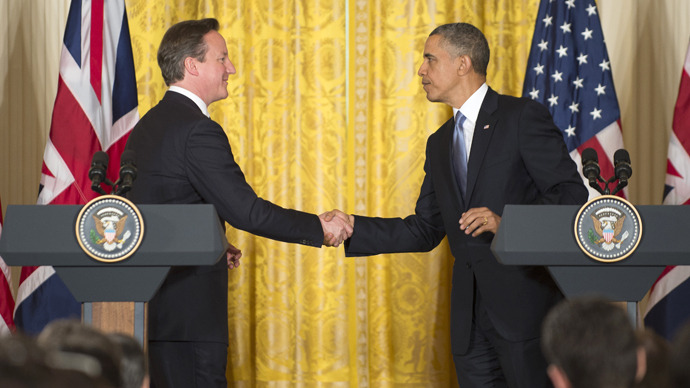 Britain will double support for the Syrian opposition in 2014 with shipping more non-lethal military aid, PM David Cameron said as he and President Obama agreed to pressure on Assad while meeting in Washington.
Cameron has vowed an extra £10 million for non-lethal equipment and £30 million more for humanitarian assistance for Syrian people as the two politicians outlined further steps to "bring to an end the killing" of Syrian people.

"We will double non-lethal support to the Syrian opposition in the coming year. Armored vehicles, body armor and power generators are about to be shipped," Cameron said at the press conference after an Oval Office meeting with US president Barack Obama.

Britain's actions in Syria completely coincide with the US plans that the Obama administration voiced last week. Speaking after a meeting of the Syrian opposition, US Secretary of State John Kerry said the United States would double its non-lethal aid to opposition forces in Syria in the coming year bringing the total sum to $250 million.

As for arming the Syrian opposition, Britain claims it has not "made decision to arm opposition groups in Syria", however, Cameron said that it "is pushing for more flexibility in the EU arms embargo".

"What we have done is we have amended the EU arms embargo in order that we can give technical assistance and technical advice," he said.

He also said that UK will continue to examine the embargo to "see if we need to make further changes".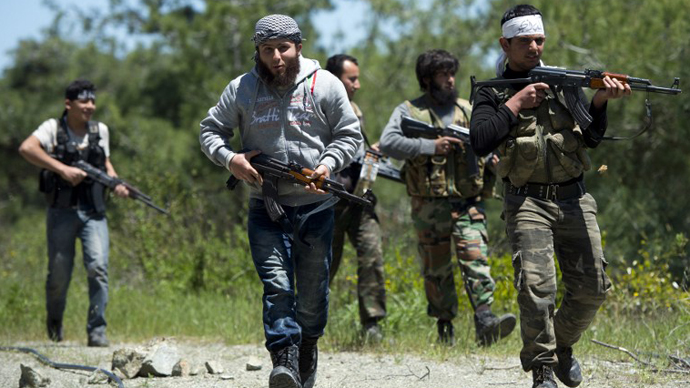 The current sanctions recently amended in April allow the supply of certain non-lethal equipment as well as technical and financing assistance related to it. However, a recently leaked six-page long draft proposal revealed the UK proposed two options to EU diplomats to amend the current embargo: the first, full exemption of Syrian National Coalition for Opposition and Revolutionary forces from the arms embargo and the second, to remove 'non-lethal' language to allow shipment lethal equipment to Syria.

Cameron said Assad had to realize there could be no military victory for his forces.

President Obama has backed Cameron's words. From his side, he said that the "work to establish the use of chemical weapon in Syria" will continue and the findings "will help guide" the next steps.

Obama said the US would be "very persistent" in pursuing a peaceful political transition that leads to Assad's exit but leaves Syria "intact".

"I'm not promising it is going to be successful. Frankly, sometimes once the furies have been unleashed in a situation like we are seeing in Syria, it's very hard to put things back together," Obama said.

Both Cameron and Obama welcomed "successful" talks the Prime Minister had with Russia's President Vladimir Putin, at which the two leaders sought to hammer out a common approach to ending Syrian conflict.  

"There is now common ground between the US, UK, Russia and many others that whatever our differences we have the same aim, a stable, inclusive and peaceful Syria free from the scourge of extremists," Cameron said.
The plan to organize an international conference to bring the sides of the Syrian conflict to the negotiating table was announced last week by Russian Foreign Minister Sergey Lavrov and US Secretary of State John Kerry. 
Syria has recently become an issue of heated debate between Western powers after the UK Ministry of Defense claimed the use of chemical weapons by the Syrian troops after allegedly analyzing soil smuggled out of the country in a secret British operation.

The UN followed up alarming claim of 'evidence' and conducted its separate investigation. Though no "conclusive findings" were reached, the UN's independent inquiry revealed after interviewing "victims, doctors and field hospitals in neighboring countries" that there is "strong, concrete suspicions but not yet incontrovertible proof" that the rebels not the government forces used sarin gas.

However, despite the conclusions of the UN, Washington said it remained "highly skeptical" about the use of chemical weapons by the opposition fighters, Britain also claimed there was no evidence of that. Along with France, it has been pushing other EU members to ease the bloc's ban on weapon supplies to the Syrian rebels.

You can share this story on social media: