'Old-fashioned Britain gone': Most Brits unhappy at home, consider emigrating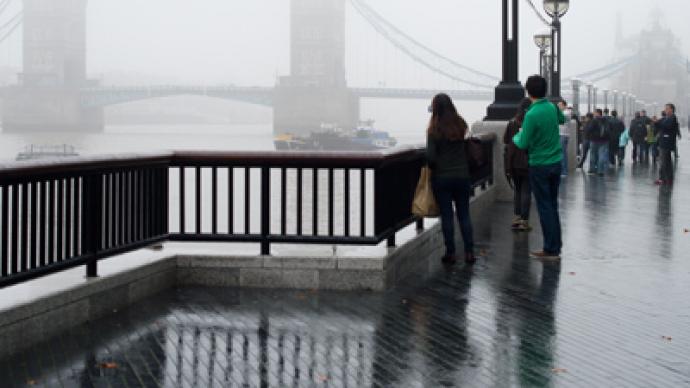 A new survey has found many middle-class UK families want to emigrate as Britain can no longer offer them a good quality of life. Almost two in three families surveyed want to emigrate due to the economy, weather and a loss of national pride.
The research titled 'When the British built Adelaide they wanted to build a better Britain' was conducted by Huddersfield University which polled 1,000 British families. "The British weather was named as the number one reason to leave the UK (59%), followed by economic downturn (49%), expensive housing (43%), bad manners (35%) and a loss of community spirit and neighbourliness (33%) in British society," reads the report RT obtained from Huddersfield University. 85 per cent of families confessed they wanted their children to grow up in a country "with a stronger sense of community" than they believe exists in the UK. At the same time, nine out of ten British parents said they want their children to live in a country with a less celebrity-obsessed culture and a more optimistic 'can do' attitude.But when it comes to moving abroad and starting a new life there, Britons prefer to stick with traditions and values they are accustomed to. Nearly two third of families said they would like the country they are moving to have a "sense of Britishness". Australia was the first country of choice, with almost one in three wanting to move there, followed by the United States (15%), New Zealand (13%), Canada (13%), followed by Spain (10%), France (7%), Italy (3%) and Germany (2%).The study suggested the reasons behind many opting for Australia, were shared cultural values.Gravitation towards the community in the South Australian capital Adelaide, hence the title of the study, was particularly highlighted.  "Adelaide was designed in the 1830s by Colonel William Light who had a vision to create a better Britain, so a shared sense of Britishness between the UK and Adelaide seems inevitable," Professor Paul Ward, author of the report and Co-Director of The Academy of British and Irish Studies, explained.
UK's living standards deteriorating
With the economic downturn Britain's living standards have been declining as household bills rise such as fuel, mortgage, and food prices. According to a new research released by audit firm KPMG this week, nearly 5 million workers in the UK are not earning enough to maintain a decent standard of living. The study concluded that twenty per cent of the working population receives less than the minimum wage, which is $13 an hour. It also showed that workers are quite pessimistic about their future. Almost half (47 percent) think their finances will be in a worse state over the next year, while almost one-fourth (23 percent) believing their job security has deteriorated.
You can share this story on social media: