'I'd do it again!' Breivik facing 3 month's jail for every death defends massacre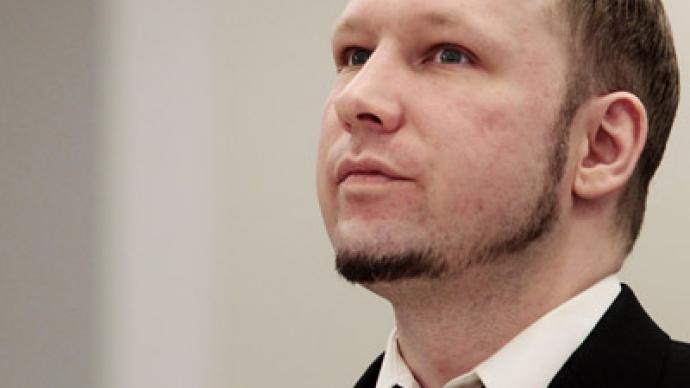 Norway killer has defended his massacre of 77 people, insisting he would do it again. He called his bomb-and-shooting rampage the most "spectacular" attack by a nationalist militant since World War II and demanded to be freed.
In a prepared statement Breivik lashed out at Norwegian and European governments for embracing immigration and multiculturalism.
"Is it democratic that the people of Norway have never been consulted by referendum on whether or not more foreigners should be accepted?" he asked the court.
Maintaining he acted out of "goodness not evil" to prevent a wider civil war, Breivik vowed that he "would have done it again."
Breivik insisted that the youngsters that he killed on the Utoya Island were no innocent children. He compared them to Hitler Youth and said they were brainwashed to promote multicultural values, a very unlikely thing for the Hitler Youth to do.
He stressed he acted in self-defense to protect Norway from Muslims. He also forecast a "war between internationalists and nationalists in Europe" within a decade.
"We do not accept that we are made to be a minority in our own country," he says. "The attacks on July 22 were preventative attacks, and I can therefore not acknowledge criminal guilt."
"I demand that I be freed," Breivik concluded after speaking for more than an hour.
He said the knowledge that he will be imprisoned does not scare him. "I was born into a prison, forced to watch my own people be degraded. In this prison you are not allowed to protest. This prison is called Norway," he said.
Another reason not to fear imprisonment is the lavish Halden prison that may house Breivik, should he be sentenced. Halden embodies the guiding principles of the Norwegian penal system, that repressive prisons do not work and that treating prisoners humanely boosts their chances of reintegrating into society.
If Breivik gets the maximum penalty of 21 years (three months for every person he killed), he will "reintegrate into society" at the age of 54.
While the case has put the spotlight on Norway's liberal criminal justice system, Former Belgian MP Lode Vanoost told RT "it is especially in cases like this that you have to stick to your principles."
Vanoost argues that by treating Breivik "with the same rights as any Norwegian citizen…you are precisely telling him 'you will not win.'"
While he admits "it is very difficult to accept from an emotional point of view," Vanoost maintains "even Breivik only has one life," and "he most likely will never be free again."
­
Cell doors are seen inside Halden prison in the far southeast of Norway. Halden jail could house Norwegian gunman Anders Behring Breivik. (Reuters / Trond A. Isaksen)
­
The inside of a cell is seen at the Halden prison in the far southeast of Norway. (Reuters / Trond A. Isaksen)
­
Reuters / Trond A. Isaksen
Courthouse becomes propaganda stage