Norway murderer Breivik charged with terrorism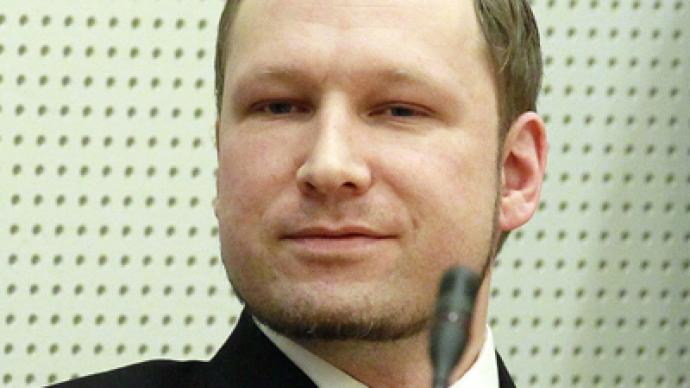 Anders Breivik, the confessed perpetrator bombing and shooting attacks that resulted in 77 people killed, has been formally indicted by Norwegian prosecutors.
He is accused under the country's anti-terror law, referring to violent acts targeting the government and instilling fear in the population. Breivik has confessed to the July 2011 attacks, but denied criminal responsibility for the acts, which he called part of a right-wing crusade against liberals and immigrants.The defendant agreed that attacks he committed were atrocious, but said that they were aimed at saving Norway and all of Europe from what he called a "Muslim invasion."According to the police spokesman Tore Jo Nielsen who was talking to press outside the court, Breivik was calm during "the whole reading-of-the-charges process."The trial against Breivik is slated for April 16, when the judge will determine whether he can be sentenced to prison or will need psychiatric care. Last week, the prosecution agreed that Breivik was insane and was not responsible for his actions, and thus "there is no basis to request a regular prison penalty." It says it will now seek to have him committed to psychiatric care rather than imprisoned.However, it was said in the instruction to the prosecution that in case new evidence of Breivik's state of mind emerges, "the prosecution reserves the right, during the trial, to request a prison punishment."There has been a division among medical experts over Breivik's mental health. According to the first court-appointed psychiatrists, Breivik was considered insane on the basis of 13 interviews with the prisoner last year.But the evaluation was later challenged by Breivik himself. A second court-ordered psychiatric examination of Breivik is currently underway. If tried as a sane person, the maximum sentence he faces for his crimes is 21 years in prison. The bombing of governmental area in Oslo and subsequent massacre of a Labour Party youth camp at the island of Utoya were the worst-ever peacetime attacks in Norway's history. Breivik insists he deserves a medal of honor for the act.
You can share this story on social media: