Hundreds arrested in Brazil as protest against World Cup spending grows violent
Bank windows were smashed and fires started in Sao Paolo in a rally against World Cup expenditure, which has exceeded $11 billion. Police fired tear gas and stun grenades, making hundreds of arrests.
Almost a thousand people peacefully took to the streets on Saturday in the south-eastern city to express their discontent over the high government expenditure on the World Cup, which Brazil is going to host in four months.
"There will be no Cup!" and "Cup for the rich, scraps for the poor!" protesters chanted according to AFP.
Although the rally began peacefully, it descended into chaos as some demonstrators started smashing bank windows, constructed roadblocks, and set piles of garbage on fire in the streets. While some told the agency that violence escalated after police refused to allow the rally to carry on, others pointed at masked 'Black Bloc' anarchists in the demonstrations.
Stun grenades were fired and tear gas deployed in order to disperse the gatherings.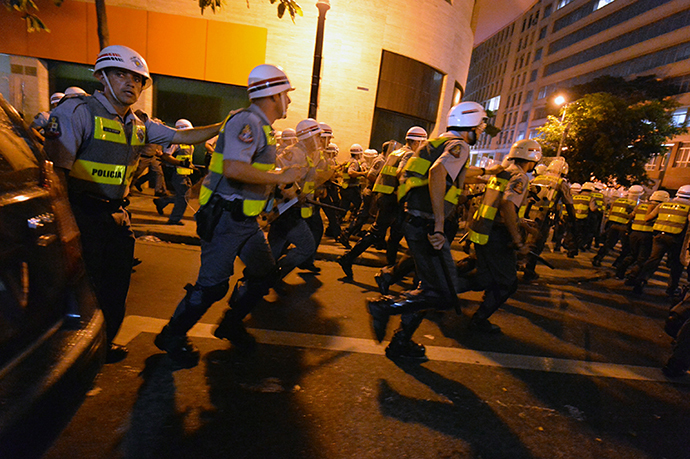 Sao Paulo military police reported on Twitter that 230 people were arrested. Among them were five journalists – three reporters and two photographers – according to local daily newspaper, O Estado de Sao Paulo.
"Even having been identified by their professional documents, journalists were lined up down the sidewalk," the paper wrote.
Five police officers and two protesters were injured in the violence. One of the police officers was struck in the neck by a glass bottle, according to the paper, and had to be taken to the emergency department.
However, numerous protesters alleged that police instigated the violence with their heavy-handedness.
"The government is trying to make believe that Brazil is all cheer and carnival, but it's not like that. This is a very unequal country," 19-year-old protester Lucas Souza told AFP.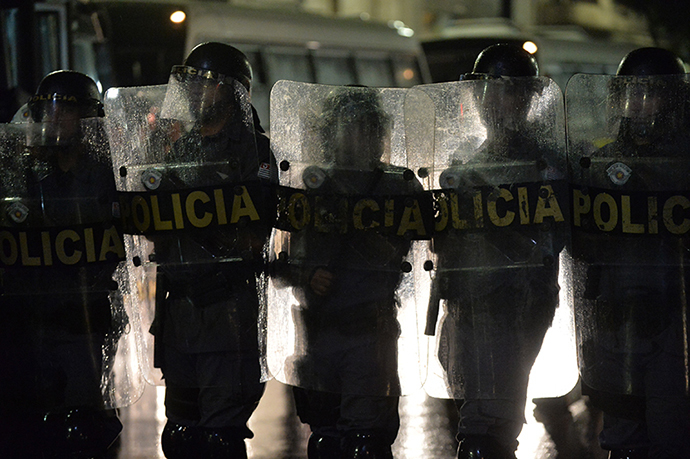 World Cup spending is taking place in the context of transport fare hikes.
Violent protests followed the announcement about fare increases, with members of the Special Police Operations Battalion (BOPE) being deployed to handle the demonstrators, using tear gas, and resulting in at least 20 arrests.
While protests have been on a smaller-scale than those against the 2013 Confederations cup, the 2014 demonstrations have contained pockets of protesters deemed more 'radical', giving rise to fears that the police may not be able to contain violence during the event itself.
A cameraman was killed in a separate protest which took place in Rio de Janeiro on February 6. An earlier call for nationwide protests – the only one of which took place in Sao Paulo – led to one person being shot and wounded by police.
Workers have threatened strikes, slamming their conditions as unsafe. At the beginning of the month, workers at a Brazilian world cup stadium, located in the northern city of Manaus, threatened action after a third construction employee died at the site.
"We have to guarantee the workers' rights and their safety," union leader, Cicero Custodio, told local press.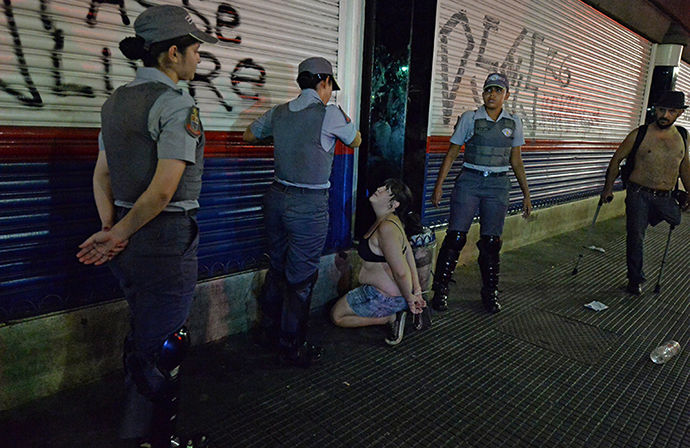 You can share this story on social media: