Hundreds of police storm Brazilian slums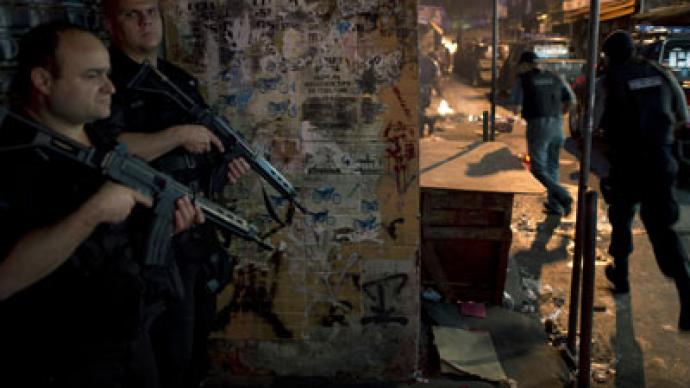 Brazilian troops and police swept through Rio's most infamous slums in a pre-dawn raid, backed up by helicopters and tanks. The "pacification" mission is intended to bring the crime-ridden favelas to heel before the 2014 World Cup and 2016 Olympics.
Over 2,000 troops participated in the crack operation in the northern favelas of Jacarezinho and Manguinhos. They began moving through the shanty towns at 5:00 am local time, searching houses and making arrests.The slums are renowned for the trafficking of crack cocaine and weapons, which police confiscated during the operation. Despite the favelas' reputations, police said that the raid went without a hitch.Around 800 officers entered into the favelas flanked by armored vehicles while the rest patrolled the perimeter.
"The situation is very calm, there have been no incidents," Colonel Federico Caldas, head of public relations for the military police, to Globo News. "At the moment we are carrying out a meticulous search for drugs and weapons."He went onto say that the police will continue to maintain a presence in the area and hope to construct a "pacification unit" in the slums by the end of the year.The shanty town's inhabitants watched on as officers patrolled the streets for the first time in decades. "I think that it's great that peace has finally arrived in Jacarezinho," said 35-year-old Paulo Cesar, on his way to church.Around 75,000 people inhabit Jacarezinho and Manguinhos, slums recognized as Rio's most dangerous. Drug trafficking is rife in the favelas, where the trading of crack cocaine is an everyday activity.The Sunday operation included members of a municipal organization that fights crack addiction; its workers took around 70 people to rehabilitation centers.
Paving the way for 'pacification'
Rio's elite police force killed five suspected drug cartel bosses in a nearby neighborhood on Saturday and mounted a search for another ten. According to police figures, criminal activity in the favelas has fallen by 60 per cent because of the increased police activity.The "pacification" project was launched in 2008 with a view to improving city security ahead of the 2016 Olympics. Thus far the authorities have installed 29 "police pacification units" and aim to have 40 in place by 2014.Although the pacification operation has largely been praised for establishing law and order in Rio's crime-ridden areas, which had previously been controlled by armed drug cartels, in some areas there have been complaints of police corruption and abuses.
You can share this story on social media: