Brazil's Rousseff on Canada leak: US and allies must stop spying 'once and for all'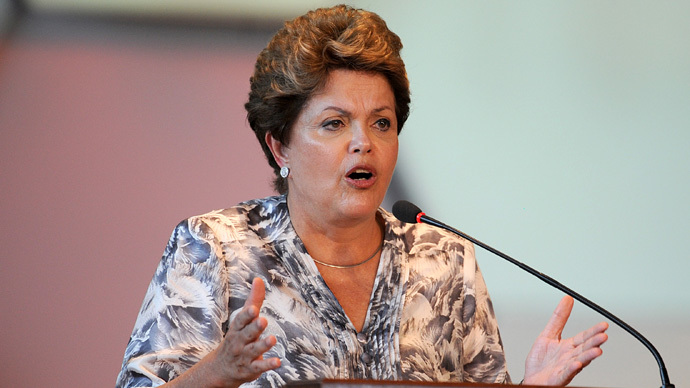 In sharp reaction to the latest NSA leak revealing Canada's acute interest in the Brazilian mining industry, President Dilma Rousseff condemned the "cyberwar" launched by the US and its allies against Brazil and demanded they stop the espionage.
Brazil's Foreign Ministry summoned the Canadian ambassador demanding clarification of what it called a "serious and unacceptable violation" of the country's sovereignty and the right to privacy, a ministry statement said.

Rousseff's initial fiery comments came via her Twitter account, where she posted 9 messages in a row condemning Canada's alleged spying activities.
"That is unacceptable among countries that claim to be partners. We reject this cyberwar," the Brazilian President wrote.

"The United States and its allies must immediately stop their spying activity once and for all," Rousseff tweeted.

On Sunday, Brazilian TV Globo released the latest leaks on the American and allied spying network obtained by Guardian journalist Glenn Greenwald from the former NSA contractor Edward Snowden.

The report detailed how the US National Security Agency (NSA) interacted with the Communication Security Establishment (CSE) of Canada to get data using software called Olympia from phone calls, internet traffic and emails flowing out of the Brazilian ministry.

It also claimed the method of cracking the Ministry's cyber defenses were discussed and shared among the 'Five Eyes' spy network, which includes the US, UK, Canada, New Zealand and Australia.

Following the leak, Rousseff tweeted that it indicated that each of the 'Five Eyes' governments, as well as "thousands" more in companies providing intelligence services had "ample access" to the information collected in Brazil.

According to the report, Canada has been particularly interested in the Brazilian mining industry, Rousseff pointed out. This confirms that the espionage had economic and strategic purposes, she added.

Brazilian-US relations have already been strained by the Snowden-exposed espionage scandal, with Rousseff recently postponing a state visit to Washington in response to the US spying on her communications with top aides. Rousseff has demanded a full public apology from the President Obama. However, no such apology has been made.

The South American country is now investigating whether Internet social media giants such as Facebook and Google cooperated with the NSA by sharing the private data of Brazilian users.

You can share this story on social media: