Brazilian president postpones visit to Washington over US spying
Brazilian President Dilma Rousseff has postponed a state visit to Washington in response to the US spying on her communications with top aides. Rousseff is demanding a full public apology from President Obama.
Barack Obama spoke with Rousseff on Monday in an attempt to persuade her into following through with the trip, the Brazilian president's office said, according to AP.

Brazil's TV Globo reported that the call between the two presidents lasted for about 20 minutes. Obama and Rousseff discussed revelations that the National Security Agency (NSA) spied on the Brazilian leader's phone calls and emails. The two presidents then "jointly" agreed to cancel the meeting, Globo reported, citing the presidential office.

The Brazilian government said in a statement that "the conditions are not suitable to undertake this visit on the agreed date." It expressed hope that the conflict will be resolved "properly" and the trip will happen "as soon as possible."

The state visit was initially scheduled for October 23. The Obama administration has confirmed that the visit was canceled.

"The president has said that he understands and regrets the concerns disclosures of alleged US intelligence activities have generated in Brazil and made clear that he is committed to working together with President Rousseff and her government in diplomatic channels to move beyond this issue as a source of tension in our bilateral relationship," said White House spokesman Jay Carney.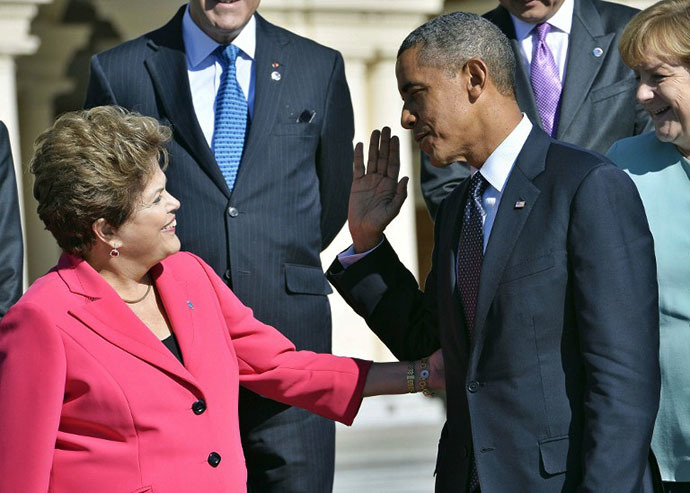 Earlier this month, TV Globo revealed in a report that the NSA monitored the content of phone calls, emails, and mobile phone messages belonging to President Rousseff and undefined "key advisers" of the Brazilian government. The NSA also spied on Mexican President Enrique Pena Nieto and nine members of his office.

The revelations were based on evidence provided by former CIA employee and NSA contractor Edward Snowden, which was passed to British journalist Glenn Greenwald.

A document dated June 2012 showed that the Mexican President's emails were read through one month before he was elected. In his communications, the then-presidential candidate indicated who he would like to appoint to several government posts.

The Brazilian government denounced the NSA surveillance as "impermissible and unacceptable," and a violation of Brazilian sovereignty.

In July, Greenwald co-wrote articles for O Globo, in which he claimed that some of the documents leaked by Snowden indicated that Brazil was the NSA's largest target in Latin America.

Greenwald wrote that the NSA was collecting its data through an undefined association between US and Brazilian telecommunications companies, but he could not verify that Brazilian companies had been involved.

Following the revelations, the Brazilian government ordered an investigation into telecommunications companies to determine whether they illegally shared data with the NSA. 
Defense ministers of Brazil and Argentina signed a broader military cooperation agreement on September 13. The two governments will work together to improve cyber defense capabilities following revelations of Washington's spying on Latin American countries.

Brazil will be providing cyber warfare training to Argentine officers from 2014.

Some experts believe that Brazil, along with other countries, should use the NSA leaks scandal as an opportunity to take a stand on internet governance.
"The fact is the government wants to offer Brazilian internet users a stronger protection for their privacy. It is a great opportunity, not only for Brazil, but for many countries to really take a stand on internet governance and really try to understand how the future of the internet and communications as a whole will end up coming out of this huge scandal about the NSA leaks," director of the Institute of Technology and Society, Carlos Affonso Souza, told RT.
You can share this story on social media: