Rio slum raided ahead of World Cup (PHOTOS)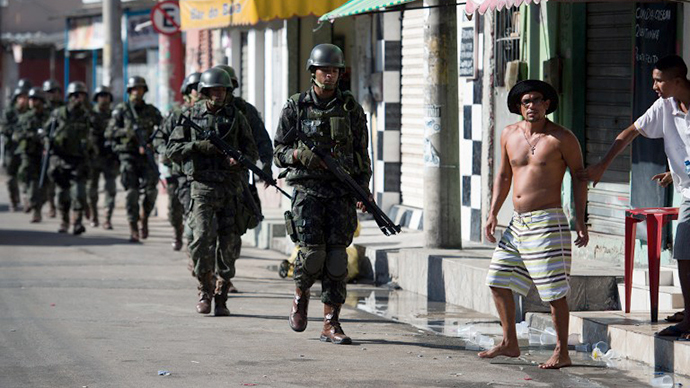 At least 2,000 soldiers raided a Rio de Janeiro slum using helicopters and armored personnel carriers in another attempt to boost security ahead of the World Cup. Raids have been taking place city-wide with the intention of ousting gangs.
The soldiers entered Mare – a renowned shanty town under the control of two rival drug gangs – on Saturday morning without firing a shot. The 'favela,' which is known for being one of the city's most dangerous slum complexes, covers about 10 square kilometers and contains some 15 separate slums. The area is home to around 130,000 people.
"We are monitoring the area closely and patrolling will be constant," Major Alberto Horita told reporters on Saturday.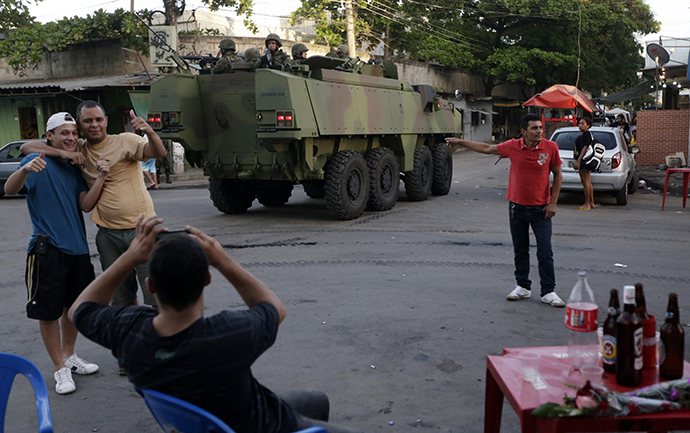 City authorities are seeking to make the city safer prior to the 2014 World Cup, which will kick off in June, and the 2016 Olympics. The first phase of the operation took place last Sunday when 1,000 policemen entered with soldiers and army backup. No shots were fired.
Army Gen. Ronaldo Lundgren and Brazilian President Dilma Rousseff signed off on the use of force. The troops were "authorized to frisk and arrest people," Lundgren said, as quoted by Globo television network.
The military team is scheduled to remain in Mare until the end of July. A permanent police patrol post will then be set up.
Rousseff has the authority to order the troops to remain in the area for a longer period of time, if she deems it necessary.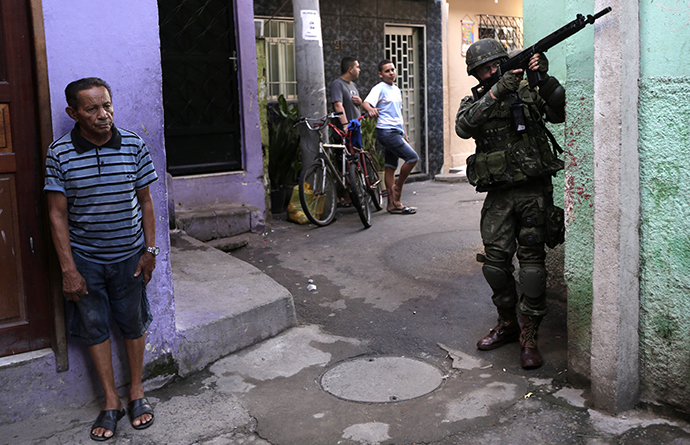 The town's location is a key security concern for authorities, as it is located along the highway to Galeao International Airport – which will receive tens of thousands of tourists as they arrive for the World Cup in a few months.
Brazilian forces have been pursuing the establishment of patrol posts to increase security in the country. Police have so far put up 37 posts under the pacification program, which was launched in 2008.
Police have been wary of entering the slum, as it has fallen under numerous attacks from drug kingpins who are thought to be ordering assaults on policemen. Four officers have already died in 2014, Reuters cited a spokesman for the pacification force as saying.
You can share this story on social media: