Brazil's president proposes reform referendum in wake of nationwide protests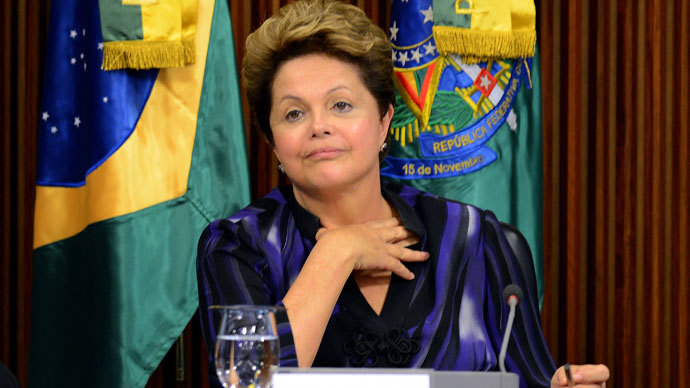 Following weeks of mass protests nationwide that persisted into the weekend, Brazil's president Dilma Rousseff has proposed a referendum for political reform in a bid to subdue public dissatisfaction that has brought a million Brazilians onto the streets.
On Monday, Rousseff pledged to invest 50 billion reais ($25 billion) on public transportation projects, holding discussions with state governors and mayors to find ways to defuse the demonstrations that have sprouted in some 80 municipalities across Brazil.

Protesters planned to continue gatherings in Sao Paulo, Belo Horizonte and Rio de Janeiro, while small pockets of violence were reported over the weekend in smaller cities, such as Salvador.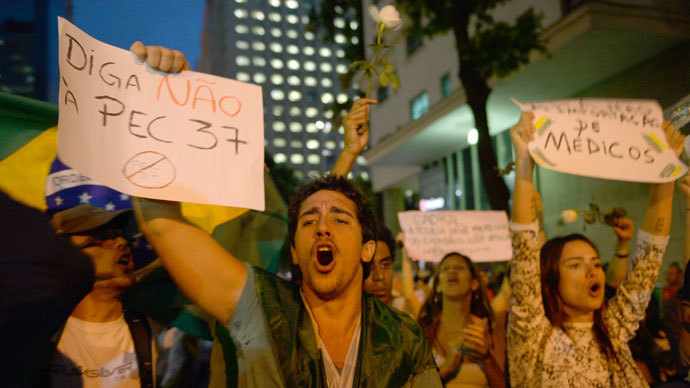 In a bid to appease the major demands at play among the protesters, Rousseff met with representatives of the Free Pass Movement, a group that advocates for free public transport and which was instrumental to organizing initial protests triggered by proposed hikes to bus and subway services across the country.

In Sao Paulo, many of the throngs of demonstrators complained of insufficient investment in underground rail, currently a very limited service in relation to the size of the bustling metropolis, the largest city in Brazil and the world's seventh-largest city by population.

Over the weekend, the more than 250,000 protesters that took to the streets voiced their opposition to legislation known as PEC 37, which would transfer power from federal prosecutors to investigate crimes.

Those proposed reforms were seen as a symptom of endemic corruption for the country, on the heels of an investigation that unraveled the biggest corruption case in Brazil's history - the "mensalão" cash-for-votes scheme that came to light in 2005, and ensnared the highly popular former president Luiz Inacio Lula da Silva.

The timing of that legislation meant that it was added to an already lengthy list of demands by protesters, which all focus on what is seen as misdirected public spending on glitzy sporting events like the 2014 World Cup and the FIFA Confederations Cup, at the expense of public services.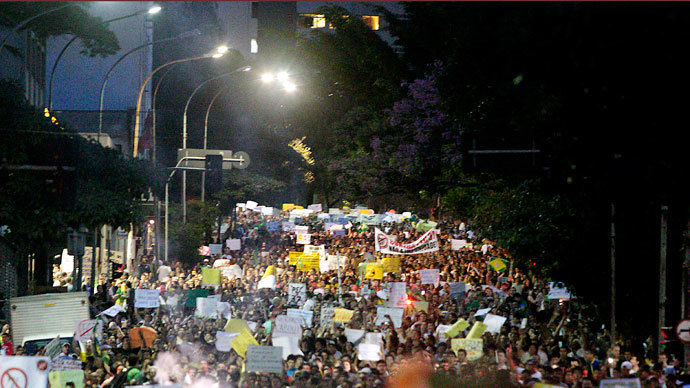 Rousseff has been quick to welcome peaceful protests, and on Monday announced her government's intention to focus on five policy "pacts" for the country, including fiscal stability, a public referendum to form a Constituent Assembly for reform, and investment in education, health and public transportation.

Just prior to the nationwide protests Rousseff's government had introduced a plan to hire medical professionals from abroad, a plan that was not well received by Brazil's medical community as it was seen to introduce unfair competition for available positions. In response, the president stressed that Brazil's doctors would always be considered ahead of international applicants.

It remained unclear whether the latest announcements would be seen as resolving the demands of protesters, many of which have vowed to stay on the streets until they feel concrete measures are being taken to reform Brazil's political system and tackle corruption.

During her remarks on Monday, Rousseff pointed out that Brazil's demonstrations were a reflection of social inclusion, and that "now the people on the streets want more."