Brazil to host global internet summit in ongoing fight against NSA surveillance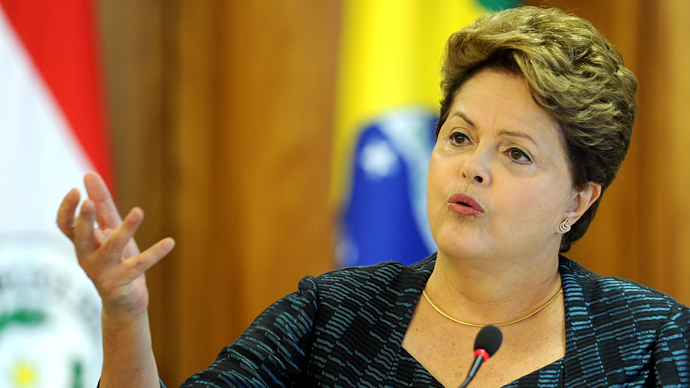 Brazilian leaders have announced they plan to host an international conference on internet governance next year, a declaration that comes after the nation has lobbied without success to change NSA policies used by the US to monitor Brazil.
President Dilma Rousseff, after consulting with Fadi Chehade, chief executive of the Internet Corporation for Assigned Names and Numbers (ICANN), announced via Twitter a conference would be held in April.
"We have decided that Brazil will host in April 2014 an international summit of government, industry, civil society and academia," she wrote tweeted Wednesday.
The ongoing leaks from whistleblower Edward Snowden revealed that Brazil has become a favorite target of the National Security Agency since the US intelligence program launched the PRISM electronic surveillance program in 2007. Along with monitoring the online activity of Brazilian citizens, the NSA has quietly kept watch on diplomatic activity and the South American nation's oil giant Petrobras.
Rousseff has since put off a scheduled state visit to the US and used her speech at the United Nations to condemn what she deemed "a breach of international law and an affront" to Brazil's independence.
"Without the right of privacy, there is no real freedom of speech or freedom of opinion, and so there is no actual democracy," she said, adding that "without respect for [a nation's] sovereignty, there is no basis for proper relations among nations. Those who want a strategic partnership cannot possibly allow recurring and illegal action to go on as if they were an ordinary practice."
The issue has simmered in Latin America, where Rousseff has made it clear that Brazil will not stand for such activity. Her own personal communications with presidential aides and other private phone information was intercepted, according to the daily O Globo.
Rousseff's comments in front of the international delegation at the UN were praised both domestically and abroad.
"She spoke for all of us that day. She expressed the world's interest to actually find out how we are going to all live together in this new digital age," Fadi Chehade told Agence France-Presse. "The trust in the global internet has been punctured and now it's time to restore this trust through leadership and institutions that can make that happen."
Chehade's ICANN is a Los Angeles-based non-profit organization responsible for the coordination of global internet systems, including international IP addresses, root name servers, and the introduction of new domain methods, among others.
You can share this story on social media: