Brazilian 'chain gangs' pedal power path to freedom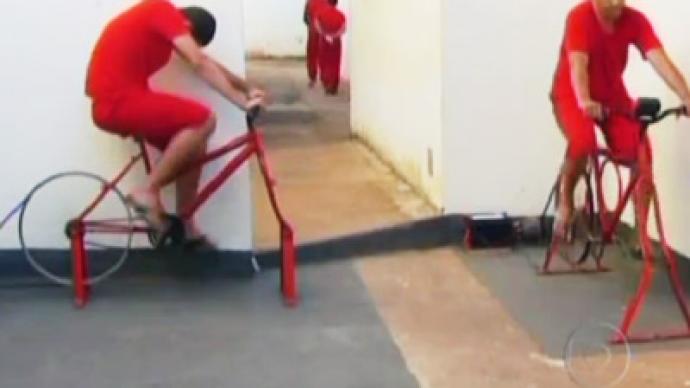 Inmates in a Brazilian prison can shave time off their sentences by becoming living sources of green energy. All they need to do is turn the wheel of a bike connected to a power generator.
For every 16 hours of pedaling the inmates of the Santa Rita do Sapucaí prison have their sentences reduced by one day, according to a Jornal Nacional report.The generators the prisoners put in motion charge batteries, which are taken to the city center to power some of the street lights. The two bikes installed in the prison are enough to light six bulbs.The reason behind the offer is not to profit from free labor however. Rather it is meant to give inmates an incentive to keep themselves in good shape, says city judge José Henrique Mallmann, who introduced the idea.At first the inmates were rather skeptical about the prospect of pedaling for freedom, but later it won their enthusiasm. The prison plans to install eight more bikes to meet the demand for their use.Legwork is not the only way Brazilian inmates can get off jail a little bit earlier. In a separate program, inmates in four prisons are offered the chance to shave time from their sentences by reading books and penning essays on them.