Brazil presses EU for progress on undersea cable to circumvent US spying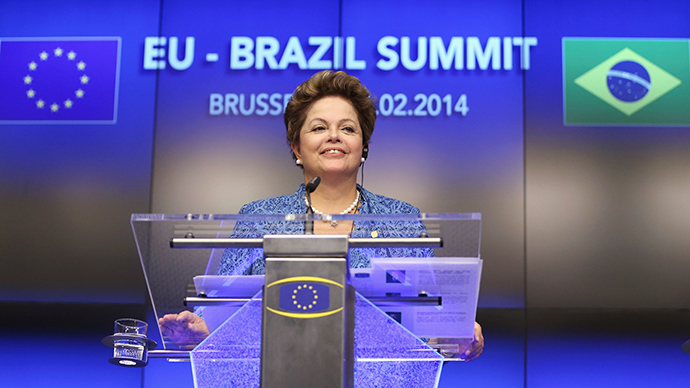 Brazilian President Dilma Rousseff pressed the EU to progress with plans to install an undersea communications cable directly to Europe on Monday. Rousseff is seeking to bypass the US following reports that the NSA has been spying on top officials.
"We are working on the financial architecture for a fiber-optic link that would be a direct connection between Brazil and Europe," an official told Reuters as Rousseff arrived in Brussels to convene with presidents of both the European Commission and European Council.

At the annual EU-Brazil summit, Rousseff sought to clarify the source of financing for the undersea cable, which has been allocated a budget of US$185 million. Construction is scheduled to begin in July.

"As far as cyber is concerned, we share a common interest in a right balance between privacy and openness on the Internet," European Council President Herman Van Rompuy stated on Monday. However, he did not make any direct references to the undersea cable project.

Rousseff has been very vocal in her opposition to US surveillance practices after it emerged towards the end of last year that the NSA had infiltrated state-run oil giant Petrobras. The spy agency had even managed to hack into President Rousseff's email account, according to classified cables obtained by American journalist Glen Greenwald and published by Brazilian newspaper O Globo.

EU leaders are also sympathetic towards Rouseff's position; according to the cables, it emerged that the NSA had also been spying on German Chancellor Angela Merkel's personal telephone calls and other EU institutions.

Brazil has been routing its internet traffic through Miami, Florida's network access point. However, last month, Brazilian state-owned telecom provider Telebras announced that it would be entering a joint venture with Spain's IslaLink's Submarine Cables in order to connect the two continents, bypassing the US.

Telebras would have a 35 percent share, while IslaLink would have a 45 percent stake. Pension funds from both Europe and Brazil would make up the rest. However, Brazil is expected to put up more for the project in total, so Brazil will be contributing more funds, according an official who spoke to Reuters.

Since the revelations, US President Barack Obama has imposed a ban on the surveillance of leaders of closely allied counties. However, the trust between the states has seemingly been permanently damaged.

In October, Rousseff started pressing for a new internet bill which would compel Google, Facebook, and other large networks to keep their locally collected data within the country, rather than on overseas servers.
You can share this story on social media: